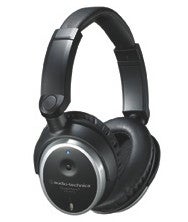 Audio-Technica announced Wednesday the ATH-ANC7b QuietPoint Active Noise-canceling Headphones, an update to the company's older ATH-ANC7 model.
The ATH-ANC7, introduced several years ago, has been one of Macworld's highest-rated noise-canceling headphones. The company says the ATH-ANC7b incorporates a number of improvements that allow the newer model to provide "better sound quality, comfort, and convenience." Specifically, the electronics have been upgraded, the earcups have been redesigned for better comfort, the battery are more-easily accessed, and the package now includes both short and long connection cables.
Other accessories include a hardshell carrying case, a 1/4-inch headphone-plug adapter, and an adapter for two-prong airline-seat audio jacks. The ATH-ANC7b folds flat for travel.
The new model will be available in August for a suggested retail price of $220.