QuickerTek has released a lower-cost version of its Apple Juicz external battery for MacBooks laptops. The Apple MacBook Battery and Charger Lite provides up to five hours of extra battery life for MacBook, MacBook Pro, and MacBook Air models.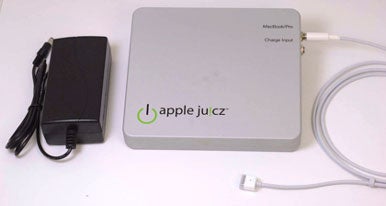 The battery weighs in at 1.2 pounds, is rated for 1,000 full recharge cycles, and works with 120 and 240 volt AC power outlets in the U.S. and abroad.
The MacBook Battery and Charger Lite costs $250. Other charges in the same series cost $450 to $500 but provide greater added battery life.—Jonathan Seff
SkypeCap adds lossless video support
SkypeCap has updated its eponymous Skype video and audio session recording software for Mac OS X. The new 2.1 version adds lossless video support. SkypeCap lets you record Skype audio and video, detects sessions and automatically saves them, recognizes Skype audio sessions, and lets you convert already-saved conversations. SkypeCap supports Mac OS X 10.4 or later and requires 10MB hard disk space. It costs $50.—Peter Cohen
iPhone microphone shipping soon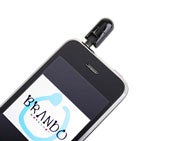 Brando Workshop has begun taking pre-orders for its $14 Flexible Mini Capsule Microphone, which the company says provides ten times better audio reception than the iPhone's built-in microphone. It attaches to the headphone jack, and you can turn the mic in any direction to focus sound source. It works with the iPhone 3GS, 3G, and 2G, as well as the iPod Nano 2G. It should ship at the of July.—PC
DevonTechnologies updates XMenu, EasyFind
DevonTechnologies has updated a pair of its free applications, adding new features and fixing bugs for its EasyFind and XMenu utilities.
EasyFind is an alternative to Mac OS X's Spotlight that's capable of finding folders, files, or contents in any file without indexing. The newly released EasyFind 4.5 adds support for Leopard's Quick Look feature. The update also highlights occurrences in file and folder names while offering the same extended Boolean operators you'd find in two other DevonTechnologies offerings, DevonThink and DevonAgent.
DevonTechnologies' XMenu file launcher adds one or more global menus to the right side of the menu bar. The new 1.9 version of the utility adds a snippets menu that lets a user insert the contents of plain and rich text snippets, clippings, and Internet location files with a single menu choice. XMenu 1.9 also features new menu icons.—Philip Michaels
Flickery improves searching
, a desktop client interface for the popular photo blogging site Flickr produced by Eternal Storms Software, has been updated to version 1.1.1.
The new release shares photos with HTML code for embedding on Web sites and in blogs. Searching has also been improved, and a 64-bit Intel binary is now included (making it compatible with Snow Leopard).
The update is free for registered users; Flickery costs $19.—PC