At a Glance
Expert's Rating
Pros
Easy to use interface when run as a script
Instantly adds life to flat images
Cons
Difficult to use as a plug-in filter
Our Verdict
Can a single click really represent 30 years of research and hard work? Professional photographer George DeWolfe certainly thinks so—his PercepTool plug-in for Photoshop CS3 ( ) and CS4 ( ) attempts to mimic your visual cortex in order to make an image look the way your brain thinks it should. In one fell swoop, this plug-in alters the brightness, edges, and contrast of your images.
It's targeted to professional photographers and anyone else interested in producing the greatest depth possible in their color or black and white images. The most recent update gives users a welcome speed boost over previous versions of the plug-in.
Getting started
Installation is a manual affair, though easy enough; just drop the plug-in and script files into their respective folders inside the Photoshop CS3 or CS4 application folder and then relaunch Photoshop. Either way, you'll want to read and follow the recommended workflow that's been carefully laid out in the plug-in's accompanying PDF.
PercepTool isn't a "fix all" solution—it's meant to be used after your regular global and local adjustments to make your image pop; if Apple's Aperture ( ), Adobe Lightroom ( ) or Camera Raw is part of your workflow, you should optimize your image there first and then open it in Photoshop and run PercepTool. For the best results, be sure to correct clipped highlights in those programs first, as they represent areas whose color values have been pushed to 100 percent. Since clipped highlights are stripped of detail, PercepTool has very little chance, if any, to make those areas look better.
Pro photographers who use Photoshop Extended will appreciate the ability to edit 32-bit RGB images. Standard users can edit 8- or 16-bit RGB or Lab images (Lab mode cannot be used on 32-bit images).
Using the PercepTool Script
You can use PercepTool in a couple of different ways: as a script or a plug-in. To run it as a script, choose File > Scripts > PercepTool and it instantly duplicates your original layer and opens a friendly dialog box appears containing three sliders in the order in which they are to be used: Perceptual Effect, Gamma, and Saturation. For black and white images, you need only adjust the first one, but for color images you'll use all three.
The Perceptual Effect slider is where the real magic happens, as it takes an image and uses a series of complicated algorithms (affecting both the image's brightness and edges) to mimic what happens in the visual center of your brain. Without getting too technical, the images we "see" are different from the images captured by our eyes or camera sensor—the brain applies another process to the image that results in the image we actually perceive (hence the plug-in's name). The end result is an image with increased depth and tonal range, which more closely resembles the one we thought we saw in the first place.
The Gamma slider can be used to adjust the shadows in your image. Just drag the slider to the left to make them darker or to the right to make them lighter. The Saturation slider controls color intensity and should be used after adjusting the first two sliders.
When you're finished adjusting the sliders, close the dialog box and create a Gradient Map adjustment layer to adjust contrast. Since contrast is the one part of the process that's subjective, a Gradient Map gives users the ability to adjust it to their liking. If you're working with a color image that you want to remain in color, change the blend mode of the Gradient Map adjustment layer to Luminosity (leaving it set to Normal produces a black and white RGB image).
Using PercepTool as a filter
The PercepTool plug-in can also be accessed from Photoshop's Filter menu, but this method summons no interface. Unfortunately PercepTool won't run as a Smart Filter (though when working on 32-bit images, few filters do), so it's best to make a duplicate of your image layer first. The PercepTool plug-in runs at 100 percent, so in the absence of an interface you'll need to use the Edit > Fade command to adjust the strength. You'll also need to add a Gradient Map adjustment layer to adjust contrast. With the lack of interface and the added steps of duplicating the original layer and fading the filter, it makes no sense to use it in this manner. Instead, stick with running PercepTool as a script.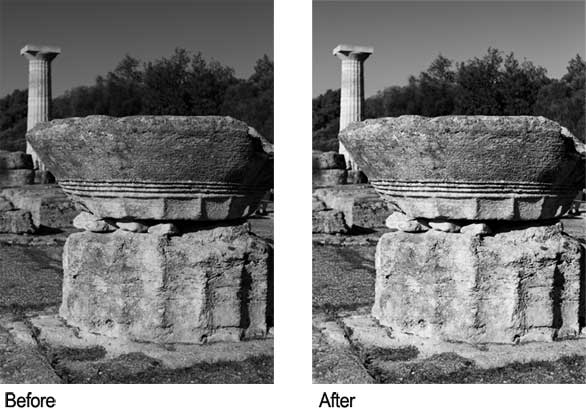 Macworld's buying advice
If you want to take your images from flat to full of life in a hurry, this plug-in does the trick. Sure you could try adjusting Curves and Gamma manually, but that still won't produce the same results. If you're a seasoned Photoshop jockey looking for a challenge, download the free 30-day trial and see how close you can get; I think you'll be reaching for your credit card in the end.
To learn more about how PercepTool works and how your brain perceives light, you can download the first two chapters of the author's book, B&W Printing (Lark Books, 2009), for free by visiting his web site.
[Lesa Snider, founder of GraphicReporter.com, is the chief evangelist of iStockphoto.com, author of Photoshop CS4: The Missing Manual (Pogue Press/O'Reilly, 2009), and several video training titles from both KelbyTraining.com and Lynda.com.]