Dig Dug Remix by Namco brings the arcade classic Dig Dug to your iPhone or iPod touch. But there's more to this offering than nostalgia—Namco also servers up a new version of the game to freshen things up.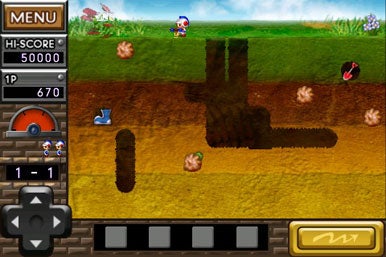 Whether you play the old or new editions of Dig Dug, the object of the game remains the same. Blow up the bad guys—typically, dragons or goggle-sporting orange balls—with your pump or make rocks fall on their heads to smash them.
The classic version is essentially the same as the original arcade game. You play it in portrait mode only. It features 256 levels, making beating the game quite the epic journey.
The new version of Dig Dug is much cooler with power-ups to boost your speed in digging, running, and blowing up enemies. There are also end bosses to defeat and much improved graphics and audio. Unfortunately, I was able to beat the game in around an hour since there were only 35 levels.
The controls in both versions really lack responsiveness and I found myself dying a lot because of it. You have two control options to choose from—a virtual D-Pad or Flick control where you swipe you finger in the direction you want to move. Neither method worked to my satisfaction. The D-Pad is tiny and the swipe control just didn't seem to work a lot of the time.
With a big name like Namco and a price tag of $6, you would expect a little more polish and depth or at least good controls. Only hardcore Dig Dug fans will find much pleasure in Dig Dug Remix; other gamers may want to take a pass or at least try out the free lite version first.
Dig Dug Remix is compatible with any iPhone or iPod touch running the iPhone 2.2.1 software update.
[Tim Mercer is a technology enthusiast, graphic designer, and blogger, whose blog, digital-artist-toolbox.com, offers free resources to the digital artist and graphic designer.]