Spiderweb Software has announced Avernum 6, the final installment of their long-running series of adventure role playing games (RPGs) for the Mac and WPC. The game is expected to be released in late 2009, first on the Mac, then on Windows in 2010.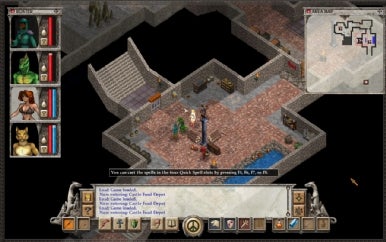 Avernum is Spiderweb's homage to classic RPG games like Ultima. It's tile-based and turn-based, and uses an isometric (three-quarters) perspective a bit like the original Diablo.
Avernum 6 returns you to the subterranean land of Avernum, a place filled with dungeons, labyrinths and constant warfare. People live far below the surface of the world. Once a prison colony for rebels and thugs, Avernum exists as a frontier for adventurers seeking wealth, fame and power.
A blight has struck the mushrooms that the residents of Avernum need to feed themselves. The savage reptilians who live in the low tunnels of Avernum have emerged, destroying much of what's left of Avernum and creating legions of refugees. You must get people to safety before everything starts to fall apart.
Spiderweb Software estimates that the game will take hours for players to play through. It sports redone graphics, new, more clever AI and multitudes of side quests to explore.
System requirements will call for Mac OS X 10.3.9 or later, 1.6GHz or faster processor, OpenGL support and 32MB VRAM, 512MB RAM, 200MB hard disk space.