Since the App Store opened its doors a year ago, more than 50,000 iPhone apps have found a place on Apple's virtual shelves. And we have to be honest here—a solid majority of those 50,000 apps are not all that memorable. But just as assuredly, there are more than a few apps that have made a name for themselves in the past year and, in their own way, helped make the App Store the success story that it is.
We're not necessarily talking about the best iPhone apps here—we listed our favorite iPhone apps at the end of 2008 (and we'll do so again, in a much bigger way, at the end of this year). Rather, we're focusing on apps that made an impact, whether by way of quality, innovation, popularity, or sheer chutzpah.
We asked our iPhone-using editors to name the most significant apps to appear on the scene since the App Store's July 2008 launch and came up with a list of 12—one for each month that the App Store's been open. Not every app on our list is a must-have—the presence of a gas-passing simulator should be your first clue there. But we think this collection represents apps that, for better or worse, have defined the iPhone platform. These are the programs that, a year into the App Store's existence, give us an overview of the state of third-party development for the iPhone.
Read more…
Amazon Mobile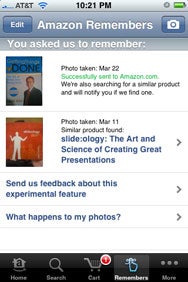 Sure, you can access Amazon.com on your iPhone using Safari, but Amazon Mobile makes a compelling case for the superiority of a dedicated shopping app. As you'd expect, it lets you search for products on Amazon, giving you quicker-than-the-Web access to prices, descriptions, and user reviews. And by linking up with your Amazon.com account, you can buy items right on your phone without having to tediously re-enter your shipping and purchasing details; you can also save items for later or add them to your Wish Lists. But the coolest feature is Amazon Remembers: If you see an item while you're out and about—even if it's just a book or gadget at a friend's place—you can take a photo of it using your iPhone's camera. The app sends the photo to Amazon, and a few minutes later you get an e-mail identifying the item and linking to Amazon's shopping page for it; the item is also saved to your Remembers list in the app and in your account on Amazon.com. If you do quite a bit of your shopping on Amazon anyway, Amazon Mobile is like having a personal shopping assistant, and it gives us a taste of how a multi-function mobile device can enhance everyday tasks (Free; Amazon.com).
Cydia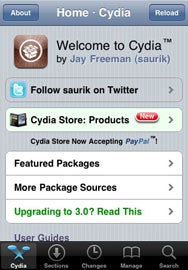 Hey, we didn't say that you would find every one of these apps within the App Store itself. Because one of the iPhone's most important applications is one you won't find in any Apple-sanctioned emporium— Cydia, the installer application for jailbroken iPhones and iPod touches. It's through Cydia that you can install tools for accessing the complete contents of your iPhone or iPod touch as well as add applications that provide capabilities not provided (or allowed) by Apple. With Cydia installed, any jailbroken iPhone can shoot video, tether, stream video, download YouTube videos, file applications into folders, bear a customized interface, and much more (Free; Jay Freeman).
Flight Control
The iPhone platform is fast becoming a gaming juggernaut, rivaling the Nintendo DS and Sony PSP in capabilities—and dwarfing both platforms combined in terms of the number of available titles. But among the iPhone's most compelling games is one of the simplest: Flight Control. An onscreen airfield features two runways and one or two helipads; as planes and helicopters appear on the screen, you use your fingertip to create a flight path from each to its proper landing site. Sound easy? It is until your airspace starts to get crowded, forcing you to manage those flight paths to avoid collisions.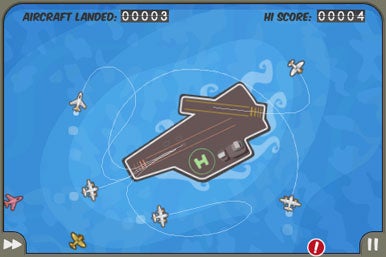 The graphics are delightfully retro, the gameplay is dangerously addictive, and the app tracks a number of interesting stats that spur you to improve on your personal best (and compare it with others' online). The game also remembers where you left off the last time you quit, making it perfect for a few minutes of fun during your commute or while waiting in line. The developers aren't resting on their laurels, either: Flight Control was one of the first apps to embrace iPhone 3.0's peer-to-peer networking, letting you share your tower duties with other iPhone and iPod touch owners ($1; Firemint).
iFart Mobile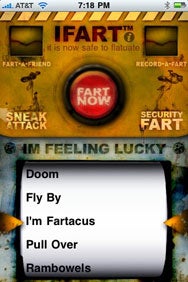 Really, this space could go to iFart. Or myFart. Or FartFX. Or any one of the dozens upon dozens of off-color noise-making apps that turn up when you type a certain slang term for passing gas into the App Store's search engine. It's not something that Apple is likely to tout at its next iPhone press event and we're not sure we entirely understand the phenomenon ourselves, but the fact remains: There are a lot of offerings in the App Store whose sole function is to simulate the sound of breaking wind. We like to think novelty apps like iFart Mobile maybe inspired their developers to move on to creating bigger and better things once the novelty died down or that App Store shoppers looking for flatulence apps might have been tempted to try out some of the more useful apps available for download in the store. Nevertheless, there's no denying these kind of programs had their finger on the pulse of the App Store in its first year, and that a lot of customers were eager to pull that finger ($1; InfoMedia).
Koi Pond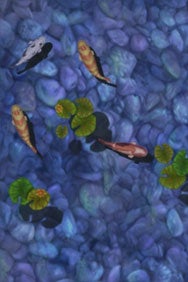 The first time you hear a description of Koi Pond—animated Japanese carp swimming aimlessly about your iPhone screen—it sounds like, at best, a novelty app and, at worst, a waste of a perfectly good dollar. So how did this app swim its way to the top of Apple's list of best-selling paid apps for 2008? Because the development team at The Blimp Pilots mastered the little details of an iPhone app, from the realistic movement of the fish to the ambient noise to the interactivity. (Touch the screen in Koi Pond, and you'll see ripples form and fish scatter, accompanied by the sounds of splashing water.) Koi Pond is a relaxing and entertaining addition to any iPhone or iPod touch, but more important, it shows that even apps with simple conceits can contain a great deal of depth just below the surface ($1; The Blimp Pilots).
MLB.com At Bat
If you're looking for an example of how much an app can evolve in the short span of a year, consider the changes that MLB.com's At Bat has undergone. The app was there from Day One of the App Store, offering live scores, game status data, and in-game video highlights from Major League Baseball games. By the fall, MLB.com released an update that made in-game data even more accessible with play-by-play and pitch information that mirrored what you'd find on Major League Baseball's Web site.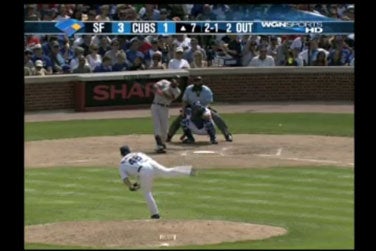 At the start of the 2009 season, another update introduced GameDay Audio Support, letting users tune into the radio broadcasts for any game featuring the hometown announcers of both teams. The recent iPhone OS 3.0 update brought even more changes—MLB.com At Bat now offers live streaming video for up to two games per day. The most notable app makers strive to find new ways to take advantage of the iPhone OS, and few have been more successful at it than MLB.com ($10; MLB.com).
Movies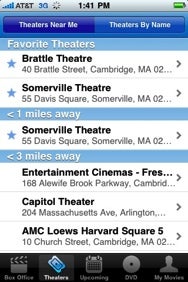 There are those who will lament no longer having to listen to the strange intonations of the Moviefone guy, but Movies by Flixster brings the cinema outing into the 21st century. Sure, you could go to Google or one of the numerous movie showtime Web sites, but Flixster one-ups those offerings by allowing you to quickly and easily find showtimes for movies in your area: no need to wrangle with ZIP codes, thanks to the iPhone's location services. Can't decide on a movie? Movies lets you skim through reviews from Rotten Tomatoes as well as comments by fellow users. You can also browse upcoming movies and DVD releases and Facebook users can connect with their accounts to keep track of their favorite movies. Movies is a great example of how a single application can collect information on a subject from disparate sources around the Internet and mold it together into a single, easy-to-use format (Free; Flixster).
Postage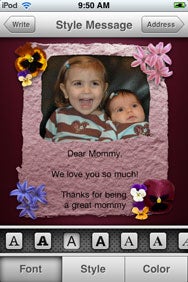 Some apps are must-haves, not because they're actually necessary for everyone but because they're such perfect examples of what an iPhone app can do and how it can do it. Take Postage, an app that makes creating electronic postcards not only easy, but fun, thanks to an iPhone-optimized interface. You choose photos from your albums or take them with the phone's camera; use multi-touch gestures to resize and position images; swipe and tap to choose postcard designs, photo effects, and text styles; type messages using the onscreen keyboard; add recipients directly from your contacts; and send your postcards right from within the app. It feels like the sort of app Apple would make, and, best of all, it produces beautiful results ($1; RogueSheep).
Remote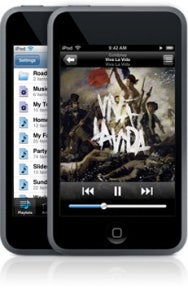 Cute though Apple's gum-stick-like hardware remote control is, it's a limiting way to command an iTunes library or Apple TV because it requires that you repeatedly mash buttons to work your way through your media's hierarchy. With Apple's free Remote app you can bid that hardware remote a dry-eyed goodbye. Not only does it let you navigate an iTunes library or Apple TV with ease, but it displays the contents of each on the iPhone or iPod touch's screen—thus letting you move to just the music or video you want without a lot of tiresome button presses. And because it works via Wi-Fi rather than infrared, you can exert control over your media from just about anywhere in your home. Remote control of your computer and media devices is a powerful thing, and Apple led the way with this app (Free; Apple).
Rolando
A lot of games arrive on the iPhone after making their name on other platforms. There's nothing wrong with that, certainly, but games created specifically for the iPhone and iPod touch hold a special place in our heart. After all, the best of these iPhone originals are created with the idea of taking advantage of the platform's unique features. Ngmoco has quickly established itself as one of the top iPhone game makers with a stable of unique and creative apps.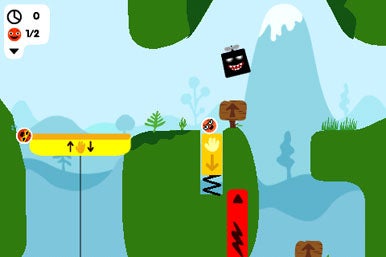 The crown jewel of its collection is Rolando, a side-scrolling platform game in which you must navigate the roly-poly Rolandos from Point A to Point B. If the premise sounds fairly pedestrian, the implementation is anything but—Rolando exploits the iPhone's accelerometer in a clever way, letting you tilt and turn your mobile device to get the Rolandos rolling. You also use finger swipes to make the Rolandos jump and to pan around the playing screen to see what dangers lie ahead. Ngmoco continues to innovate—a sequel to Rolando came out earlier this month—but the original continues to impress ($6; ngmoco).
Shazam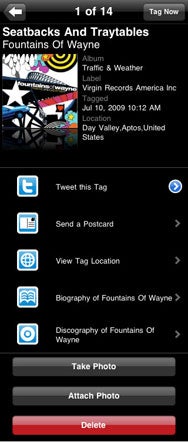 Should you ever need to convince Mr. Van Winkle that the iPhone he's recently heard so much about truly is a miracle worker, take him down to the local drinkery, wait for a song to start playing, fire up Shazam, tap Tag Now, point the iPhone's mic at the music's source, and observe the shock on his face when, scant seconds later, the name of the song appears on the iPhone's screen along with links for watching associated YouTube videos, browsing reviews, viewing the artist's biography and discography, and, in some cases, displaying the song's lyrics. Shazam gets far more than it misses and is an amazing demonstration of the power of the iPhone coupled with a remarkable audio analysis algorithm (Free; Shazam Entertainment).
Twitterrific and Tweetie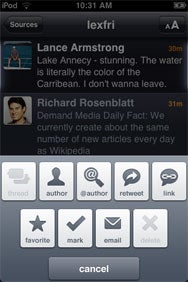 You either get Twitter or you don't. For those who do, the iPhone and Twitter were made for each other: Twitter's microblogging service lets you post short, on-the-go messages for others to read, and the iPhone is an easy-to-use, always-connected communication device you're likely to have with you all the time. While there are scores of iPhone Twitter clients available, Twitterrific (Standard, free; Premium, $4; The Iconfactory) and Tweetie ($3; Atebits) have earned spots among on our list—the original Twitterrific for being the first really good iPhone Twitter client, and Tweetie and Twitterrific 2 for subsequently setting the standard for how great such an app's interface and functionality can be.
Macworld's Christopher Breen, Dan Frakes, Dan Moren, and Philip Michaels contributed to this report.