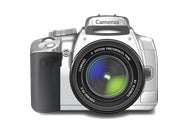 Update: Intrigued? Want to know more about how it works? You're in luck: apparently we reviewed it earlier this week and it slipped by my admittedly short attention span until now. Anyway, check out our review.
Do you suffer from hypercameraitis? Is your desk littered with picture-taking devices of all sorts: from digital cameras to cell phones to video cameras with still features? Are you tired of iPhoto launching every single time you plug something in? Wish you could be more specific about which application should launch for which camera?
Well, then, have we got a deal for you. Flexibits's free Cameras preference pane lets you choose which application your Mac launches, all depending on the camera that you plug in. For example, make iPhoto launch for your point-and-shoot digital camera, while Aperture opens for your DSLR and Image Capture opens when you connact your iPhone; you can also choose to have your Mac do nothing at all.
Even better, your images can be downloaded automatically, so you don't have to futz around with whatever application you choose—Cameras can even add photo metadata to Spotlight comments and delete the originals from your camera.
Cameras requires Mac OS X 10.4.11 or later and works with pretty much any photo device.