Squashed Software (formerly Maza Digital) has released RAID Monitor 3, a new version of its tool for automatically checking the status of RAID storage system.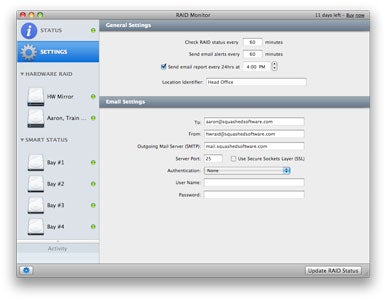 The completely rewritten software features a new interface, adds support for the new AppleRAID card, provides modifiable alert messages, and lets you set the time for its daily status e-mails. The software is designed to alert you by e-mail whenever it finds a fault with your RAID.
RAID Monitor 3 costs $30, or $15 to upgrade from version 3. It requires 10.5 or later, and works with an Apple software RAID, or with MegaRAID AppleRAID cards—Jonathan Seff
Geotagalog improves iPhoto import options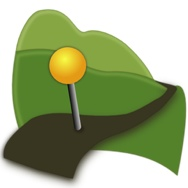 Calf Trail Software announced on Friday the release of version 1.4 of its geotagging utility, Geotagalog. The latest version of the software, which allows users to combine digital photos with location data, improves performance in the realms of speed and file handling. In addition, there's better control for which files are imported into iPhoto—you can now select individual files as well as folders.
Geotagalog 1.4 is a free update to existing customers; new customers can purchase a license for $20. The software requires Mac OS X 10.5 or later.—Dan Moren
MacFamily Tree adds 3-D family data map
, the newest update to Synium Software's genealogy program, was released on Friday. The application now features an overhauled Virtual Tree, allowing users to navigate a three-dimensional map of their family data. In addition, version 5.6 has extended and improved its media management capabilities; for example you can select people in family pictures and assign them to people in your database. The program also now features enhanced bookmarks and the ability to edit images within the program.
MacFamilyTree 5.6 requires Mac OS X 10.4.11 or later, Safari 3.0 or newer, and a Mac with an ATI Radeon 7500, Intel GMA 950, NVidia GeForce 4 MX or better graphics chipset. Version 5.6 is a free update to existing customers of MacFamilyTree 5; a new license costs $50.—DM