Ever since the iPhone came out, I've been dreaming of a mobile Photoshop app. This hasn't happened—yet—but GhostBird Software has managed to get closer than anyone else with PhotoForge. This amazingly powerful image-editing app can edit photos, apply filters and effects, and provide the tools for you to create illustrations and paintings from scratch.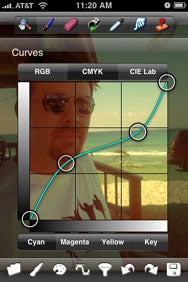 When you first start up PhotoForge, you choose to either open an existing photo, start with a blank canvas, or take a new picture with the iPhone's camera. Seven icons across the top of the screen represent the tools you can: Zoom, Brush, Eraser, Paint Bucket, Eye Dropper, Smudge and Clone Stamp. Several options along the bottom of the screen let you select color, transparency, brush size and type; adjust curves; select filters and effects; undo and redo; and save image.
Taking a closer look at some of these tools and options, Zoom lets you get right down to the individual pixels for fine detail work. The Brush tool features eight different brushes ranging from hard- or soft-edged to scattered dots and more, all with unlimited sizes, colors, and transparencies. This really allows you to paint anything you can imagine, providing you have some artistic skills.
The Eraser tool will erase everything except the original photograph, making it possible to erase effects from part of a photograph. For instance, you could use the black-and-white filter and then selectively erase part of it to reveal the colors below, like in a black-and-white picture of a girl holding a bright red rose.
The Paint Bucket lets you quickly fill the canvas with any color. You can also set the color to a light transparency to just tint an image. An Eye Dropper tool selects any color from the canvas just by moving your finger over it, while a Smudge tool smears the pixels in the direction of your stroke—great for blending effects while painting.
With the Clone Stamp tool, you can select a part of the image and then wherever you paint, PhotoForge duplicates that part. I was surprised to see this really cool tool included in the app. Clone Stamp also makes it possible to remove an unwanted object from the background of a photograph.
Adjusting curves with the Curves basically is like creating your own filters. You can adjust the curves for RBG, CMYK, and CIE Lab. This gives you a lot of editing power all by itself and can affect everything in an image including color, saturation, brightness, contrast and much more.
Within Filters, you'll find 13 adjustments such as Noise Reduction, Sharpen, Blur, Exposure, Simulated HDRI, Hue/Saturation, and more. All of these adjustments have sliders you can tweak for just the right look. There are also 15 Filters including Dreamy, Watercolor, Sepia, Black and white, Neon, Television and more. The filters are all preset with no adjustment options and while many of these produce good results, a few are not done well at all. All the filters and adjustments can be layered over each other for endless possibilities.
Photoforge supports unlimited undo and redo so you never have to worry about making mistakes. Even if you get interrupted by a phone call or a crash, the next time you start up the app, Photoforge will ask if you want to continue where you left off, with a complete cache of all actions so you can still undo and redo.
All of this editing power is contained in an elegant and intuitive interface that makes navigating the myriad of options very simple. When you tap the screen, PhotoForge's interface goes away, leaving you with a full screen view of the canvas. If you go three seconds without touching the screen, the interface reappears. GhostBird Software has done a wonderful job putting everything at your fingertips in an unobtrusive way.
When you're finished editing or creating, you can save to four different output sizes—640×480, 800×600, 1,024×768, and 1,600×1,200.
On sale for $3 as of this writing, PhotoForge is almost like having a mobile version of Photoshop in your pocket (or at least the closest thing to it). The easy-to-use app gives you some great editing tools previously not seen on a mobile platform. PhotoForge is the most powerful app of its kind in the App Store and a must-have for artists, creatives or anyone interested in image editing.
PhotoForge is compatible with any iPhone or iPod touch running the iPhone 2.2 software update.
[Tim Mercer is a technology enthusiast, graphic designer, and blogger, whose blog, digital-artist-toolbox.com, offers free resources to the digital artist and graphic designer.]