In May, I reviewed FutureTap's Where To? app, which lets iPhone and iPod touch users exploit their handheld's location features to serve as a sophisticated but somewhat flawed guide to Google Maps. In particular, I had trouble with the app's shake feature.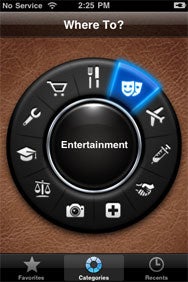 Within a day of the review, however, an update appeared and my problem disappeared. The Surprise Me feature now works beautifully. The app updated again on June 21 and is much faster. Meantime, FutureTap resolved an issue with the App Store concerning the company's name. With all of that in mind, we thought it worthwhile to give Where To? a brief second look.
I praised FutureTap for the thought it put into the categories of goods and services. The latest version of Where To? features several new categories, including various construction specialists. FutureTap further sliced and refined the shopping and emergency categories, so that users will have no trouble locating the nearest toupee vendor, glass repairman, or 24-hour pharmacy ever again.
I still wish the app gave users greater control over the radius of their search. But FutureTap's Ortwin Gentz tells me that Where To? v. 2.0 is in the works, with new features and optimized with the iPhone 3GS and OS 3.0 in mind. Be on the lookout. It should be worth the download.
Where To? is compatible with any iPhone or iPod Touch running the iPhone 2.x software update.
[Ben Boychuk is a freelance writer and columnist in Rialto, CA. Feel free to e-mail him.]