At a Glance
Expert's Rating
Pros
Good USB speed
Large capacity
Our Verdict
For some, a roomy amount of storage space at an affordable price is top priority in a hard drive-you don't care if a hard drive looks functional but not stylish. If this is the case, Western Digital's My Book Mac Edition fits the bill. The My Book Mac Edition is bulky but offers faster-than-expected USB connectivity.
The My Book Mac Edition is thick, about as wide and tall as a hardcover book. It's a heavy desktop drive and will likely spend its life perched on your desk. Should it fall, I wouldn't trust it to survive a drop of more than a few feet; the exterior seems poorly equipped to cushion the mechanism inside.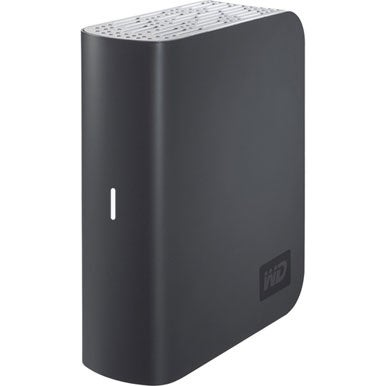 As the name implies, the My Book Mac Edition is designed for the Mac and is Time Machine-ready. The 1TB capacity in the unit I tested ensures that everyone, save professional video and audio editors, will have plenty of storage space for documents, files, and folders.
Even at its fastest, USB connections are still much slower than FireWire 800, 400, or eSATA. Yet, USB is the most universal connection on the market currently and is compatible with everything from old MacBook G4s to new MacBook Airs.
The hard drive mechanism inside the My Book Mac Edition uses Western Digital's GreenPower technology. Western Digital says that GreenPower helps save power by optimizing the drive's spin speed, transfer rates, and caching.
In our performance tests, the My Book Mac Edition had strong times for an USB-only drive. The drive finished our 1GB copy test in 49 seconds, marginally faster than competing USB-only desktop drives. In our duplication test, the My Book Mac Edition finished in 1 minute, 14 seconds, the exact same time as Seagate's FreeAgent Desk ( ) using USB. The My Book Mac Edition produced a new top score for a drive using a USB connection in our low-memory Photoshop test, taking only 1 minute, 31 seconds to complete the test. This bests other desktop drives USB scores and beats the USB-only SimpleTech [re]drive ( ) by 30 seconds.
At $150, the 1TB My Book Mac Edition has a decent price per gigabyte of 15 cents. While this is slightly better than the 500GB SimpleTech [re]drive's price per gigabyte of 19 cents, the current market value of the 1TB Seagate FreeAgent Desk has a price per gigabyte of 11 cents.
Timed trials
| | |
| --- | --- |
| Copy 1GB file to USB 2.0 | 0:49 |
| Duplicate 1GB file via USB 2.0 | 1:14 |
| Low-memory Photoshop: USB 2.0 | 1:31 |
Scale = Minutes: Seconds
Specifications
| | |
| --- | --- |
| Price per gigabyte | $.15 |
| Connectors | USB 2.0 (1) |
| Rotational Speed | 7,200rpm |
| Other capacities | 2TB ($300) |
Macworld's buying advice
Generally, larg-capacity drives are for users with massive storage needs, requiring extra space to fit music, videos, and other large-size media files. Moving this much data to a hard drive takes time, and that's where USB-only devices really come up short. FireWire 800 can transfer files many times faster than USB, which is why OWC's Mercury Elite-AL Pro ( ), equipped with FireWire 800, 400 and USB connections, is a more versatile and practical drive for users with large storage capacity needs. That said, Western Digital continues to produce quality drives designed for the Mac and many users know and trust the brand. If speed isn't your thing, the name brand cache, large capacity, and comparatively fast USB-connections may satisfy your needs.
[Chris Holt is an assistant editor for Macworld.]