Real Tennis 2009 looks awesome. That's no surprise, since the $5 game comes from Gameloft, the company behind the beautiful Let's Golf ( ). Real Tennis has a steeper learning curve than Let's Golf, but once you get the hang of it, it's certainly fun in its own right.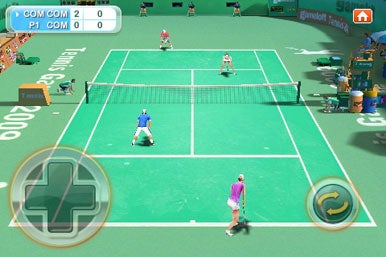 The game is packed with options. You can dive right in with Instant Play, or try the more involved Championship and Tournament modes. Real Tennis also supports Wi-Fi-based multiplayer for up to four people. When you're ready to play, you can choose from a variety of fictional characters with varying strengths and weaknesses. (Though Real Tennis clearly doesn't license any real players' names, you'll find that characters like the female "Kantikova" seem a bit familiar.) You also get to choose between grass, clay, and synthetic courts, with the ball behaving differently on each surface.
Gameplay is interesting. You use an on-screen d-pad on the left to move your player and and an interactive button on the right to control your swing. How you swipe or tap the interactive button affects whether you lob or slice, and you can quickly use the d-pad to determine whether you're going deep or for a drop shot.
It's hard.
Read more…
When you're playing singles, it can be very tough to navigate your character into position fast enough to return a volley. I started to feel a bit like I was playing a soccer penalty kick simulator, guessing which direction to head after I served, praying that I'd be in the neighborhood of my opponent's return.
I kick butt in Wii Sports tennis, though obviously that's a very different game. In easy ("Junior") singles mode on Real Tennis 2009, I have yet to win a match. I was ready to throw the game—and my iPhone—in the trash after a series of crushing defeats, when I made two important discoveries.
First, it turns out that where you are on the court isn't as important as you might initially think. Like in Wii Sports, actually, Real Tennis is pretty forgiving. You can start your swing early, and if you're in the right hemisphere, you'll make contact pretty often. This one discovery was very important to shifting my perspective on the game.
Even more valuable, though, was my recognition that doubles is the way to go.
In doubles, the computer controls your partner. And sometimes, yes, the computer plays like a moron. But more frequently, the computer plays great, and leaves you with a much more manageable task of covering just half of your side of the court. Once you stop needing to run back and forth like a drunken Pac-Man, you'll have more time to consider ball placement and swing strategy. It's a tremendous improvement.
Besides the d-pad controller I mentioned, there's also a joystick option available. I liked the feel of the joystick more, but I play far better with the d-pad. Both controllers have the unfortunate habit of blocking some action; when your computerized doubles partner is playing the back left and you're covering the right, you just see the ball flying out of the controller over and over again, with your teammate entirely obscured.
The game's sole accelerometer use occurs while serving, to position where you'd like your serve to land, and optionally to perform the serve itself. The interaction feels tacked on, and my serves are much more consistently powerful when I use multitouch instead.
Once you learn the ropes, and make the decision to stick to doubles, Real Tennis gets pretty fun. The attention to detail is very good, and I improve just enough each time I play to remain pretty well addicted.
Real Tennis 2009 is compatible with any iPhone and iPod touch running the iPhone 2.2.1 software update.
[ Lex Friedman wonders if his need for doubles belies some deeper co-dependence.]