Time tracking can be a serious pain for anybody who needs to keep meticulous records of various durations. Luckily, computers have made this task much simpler when you're sitting at your desk. But what about when you're on the go? That's where ClockedIn from Kyoobed comes in.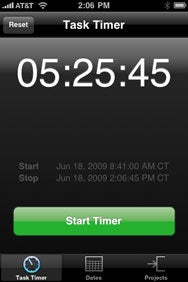 At its simplest, the $4 ClockedIn is a time-tracker, yet it offers much more than a stopwatch would. For instance, projects and tasks can be created for tracking time on individual activities. ClockedIn also generates daily, weekly, and monthly reports based on activity during those respective time spans. You can also see graph total times, breaking them down by projects and tasks.
While it does offer many useful features, ClockedIn is not the easiest of apps to navigate and use. It takes awhile to figure out how to access certain features and become accustomed to how ClockedIn does things. For instance, you can't directly edit recorded times or easily view them in the Projects pane; instead, you have to go to the dates panel and drill down to the task by day. It would be nice to be able to see all of the recorded sessions when viewing projects.
With that said, ClockedIn does offer a few features that make it an appealing timer for some users. For one, it can track and remember time even if you are not in the app, including when your iPhone or iPod touch is locked. Say you go to look up an e-mail—ClockedIn will continue to track time as you switch over to the Mail app. And it's easy enough to export data out of the app.
ClockedIn may not be the most intuitive application out there, but it gets the job done. If you have the time to tinker with it, you'll find that ClockedIn serves its niche very well. I know that I'll be using it as my default on-the-go time tracker.
ClockedIn is compatible with any iPhone or iPod touch running the iPhone 2.2.1 software update.
[ John Fuller is a freelance designer and writer from Texas.]