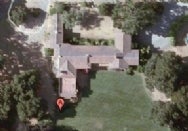 Steve Jobs is moving house—literally. The Apple CEO has long been seeking to demolish the 84 year old Jackling house, which resides on a plot of his land in Woodside, California, but others have argued the building is a "historic resource."
In May, Jobs received permission to tear down the house, but, according to the San Jose Mercury news, last month, Gordon Smythe, a Palo Alto angel investor, stepped in with an offer: he would move the building elsewhere. Smythe made a deal with Jobs which involves the CEO paying just over $600,000 to help photograph, disassemble, and move the house to another location. The deal needs the approval of the Woodside Town Council, which will discuss the matter on Tuesday.
Good news for Smythe, though: he doesn't necessarily need to find a new place to put the house, as long as he makes a "good-faith effort" to find it a, er, home. If a location isn't found within five years, Woodside gets first dibs on several of the house's components, including a flagpole, its Spanish tiles, and even, yes, its giant pipe organ.
With the Jackling house "abombination"—as Jobs has notably called it—out of the way, the Apple CEO can finally move ahead with his plans to build the smaller, more efficient house he's been looking to construct.
No news on whether he'll be able to include the shark-tank, escape tunnel, and robot construction facility, though.