Anyone can snap a picture of the trip to the beach with a camera phone and e-mail it to the parents just for kicks. But you want to stand out, be fun and different. Postman from Freeverse Software lets you create a unique postcard on your iPhone to send home to the loved ones and show them you really care.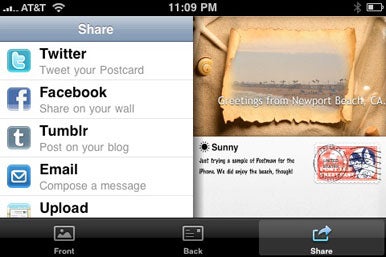 To get started, just take a photo with the iPhone's built-in camera or get one from your photo library. Then choose one of the included themes to make the "front" of your postcard—Postman offers 11 stylish themes to pick from, and you can also add text. If you're looking for real evidence that you are where you say you are, use a Google Maps image of your location. There is also a collection of images, if your shot of the Great Wall didn't turn out as breath-taking as you had hoped. On the "back" of the card, you enter a message to go along with your picture from the front, complete with a little postmark.
So what can you do with the little treasure you create? Upload it to the Web, Twitter, Facebook, and Tumblr, or send an e-mail of your postcard to your less socially-networked friends and family. You can also save your postcard as a photo to your phone. Then you can sync it to your computer and do whatever you want; like print it out and mail it to Timbuktu, where internet service might be, well, spotty.
The recent 2.0 update overhauled the interface, improved stability, and added a host of other new features like shaking your phone to start a fresh postcard and adding a new slider for text resizing. Postman 2.0 also adds compatibility with the iPhone OS 3.0 software update.
The $1 Postman is a lot of fun, and, like the similarly-featured Postage ( ) handles its task with an ease-of-use befitting the iPhone. Postman places more of an emphasis on social-networking aspects, giving you another way to update friends and family about your life. Mom and dad like to know what's going on with the kids, and I get to play with a cool iPhone app. It's a win-win for everybody.
Postman is compatible with any iPhone or iPod touch running the iPhone 3.0 software update.
[ Jeff Phillips is an educator, podcaster, father, blogger, husband, photographer and general technology pundit. He has also been known to give the occasional Feng Shui consultation.]