I lauded Simplify Media's original version of Simplify Music ( ) when it came out last year, and the new version, Simplify Music 2, is no less capable than its predecessor. It still makes streaming music to your iPhone from your computers seem almost magical in its seamlessness, and the new update has added a few new features. However, given a hefty upgrade cost, those who own the original app may not find a compelling reason to trade up.
Simplify Media has kept most everything that made the first version so good; Simplify Music 2's interface has been tweaked only slightly. At the bottom of the main screen, you'll now find a toolbar with options for browsing your Media List, viewing a list of Favorites, Searching, and changing the settings.
Browsing the Media List is almost identical to the earlier version: you can skim through iTunes' playlists and smart playlists or view a list of All Artists, All Albums, or All Songs. You can also stream Audiobooks or Podcasts, but as with the first version, Simplify Music cannot play DRM-protected tracks from the iTunes Store. Also, thanks to Apple's limitation on background apps, Simplify Music still must be running in order to play music.
Upon skimming through a list of tracks or albums (not artists, however), you'll see another new addition: a plus icon. Tapping on it will pop up a sheet asking if you want to add the selection to your favorites list, which is accessible by tapping the Favorites button on the toolbar.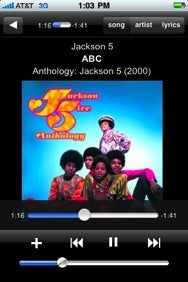 The playback screen is as simple as ever, showing the track name, artist, album name, and album artwork. At the bottom of the screen are controls for adding the track to your favorites list, play/pause, and going to the previous or next track. Simplify Music 2 has also added a scrub bar, which you can summon by tapping on the album artwork: drag the scrub bar and you'll jump to that spot in the song. Tapping the album artwork again makes the bar vanish once again.
The other major addition to Simplify Music 2 is the inclusion of search, which gets its own button on the program's toolbar. You can look for any combination of artist, album, or song. The search interface is a little strange (the Search button, for example, is where you might expect the "back" button to be, in the top left), but it's effective: type in a criteria, and the app shows you all the matches from all of your connected libraries. If you want to listen to music across multiple libraries in a single playlist, the only way to do so is to add the tracks to your favorites list, but it works fine once you've done so.
I found performance on both 3G and Wi-Fi networks to be quite acceptable. The sound quality isn't always quite as good as it is listening via the iPhone's own iPod app—and that's mostly noticeable in loud tracks with lots of noise, which can sound kind of muddy—but most of the time, it's pretty darn good.
The most contenious issue of Simplify Music 2 may be its pricing. The original application sold for $4—and it continues to be available at the same price—but Simplify Media opted not simply to update the original application, rather releasing Version 2 as a separate program costing $6. If you don't already own the original Simplify Music, there's no question that Simplify Music is well worth the price; however, if you're pretty happy with the original version and don't particularly find yourself in need of the new searching or favorites features, then it's probably not worth the investment at present.
Simplify Music 2 is compatible with any iPhone or iPod touch running the iPhone 2.1 software update.
[Dan Moren is an associate editor at Macworld.]
Note: When you purchase something after clicking links in our articles, we may earn a small commission. Read our affiliate link policy for more details.