AMG (Advanced Media Group) has released Soundtracks for iMovie, designed for multimedia projects, podcasts, slideshows, Web sites, and, of course, iMovie files. The package contains 529 production movie tracks in MP3 format of between a minute and three and a half minutes long. They are designed for quick searching via iTunes tags and can be automatically integrated into your title.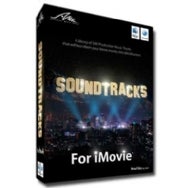 "Soundtracks for iMovie gives you a huge library of high-quality music, specifically designed for use 'to picture' so that you never need to compromise with a soundtrack that's anything less than the pros demand," said Matt Wilkinson, the company's founder. "Soundtracks for iMovie gives iLife users and fanatics access to the background tracks that the pros use to make your home and personal projects sizzle."
All tracks are original compositions, though some will echo popular music styles or trends. The difference is that all are specifically composed to be used with visuals and thus feature more 'space' than regular music for voiceovers or other audio elements. All are designed to have easy edit points to create music of a perfect duration as needed by the videographer.
Whereas pop music is usually composed around the vocals, the tracks in this package have been composed with enough space left for other multimedia elements so they actually encourage or cue in other elements, Wilkinson explains. Regular music is designed as a 'complete package' and often dominates home movies. Moreover, well-known popular tracks can get 'old' quickly. Soundtracks for iMovie are designed to make your home movies unique and sound as if you composed your own music specifically for them, according to Wilkinson. The developer has posted a selection of tracks you can check out for yourself.
Out of the box, the software is licensed for personal use only, however commercial licenses are available as an option.
Soundtracks for iMovie costs $50 and will be available from Apple's US on-line store this week, and worldwide both online and in retail stores, shortly. It's available for order now from Samples-now.com and is distributed in the US by Dr. Bott.