If you're like most creative professionals, you rely on advice and inspiration from peers to stay on the top of your game. Mainstream social networking sites such as Facebook include thriving design communities, but finding the relevant information means wading through random quizzes and personal drama. For more focused interaction and education, a better option is using the many social networking services built specifically for creative pros.
The dynamic of social media is changing the way creatives produce, share, and digest content, as well as how we brand ourselves, build our businesses, and get work. If you're not following along, you're missing out on a lot.
Share your work
One of the best uses of Web 2.0 by the creative community is a forum where you can post design work. Services such as the Behance Network, Coroflot, and the QuarkXPress-centric ILoveDesign.com offer members a place to share completed and in-progress design work for peer review, as well as entire portfolios for prospective employers.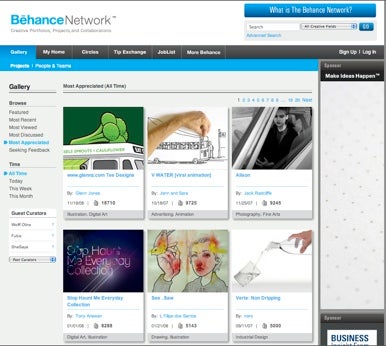 Behance Network is the largest and most feature-packed of the social portfolio sites. In addition to uploading your own designs, you can rate and critique other people's work, build watch lists of your favorite designs from other artists, and collaborate on projects.
For additional social interaction, you can form and join discussion groups called "circles." The site boasts nearly 250 active circles composed of thousands of members. Topics address a broad range creative interests and endeavors from graphic design to woodworking, fashion to Web design, cinematography to video game-design. For example, the "Behance: How Do You Use It?" circle helps new members get the most out of the Behance Network, while type aficionados congregate and passionately debate the virtues and sins of Helvetica in the "We Love Helvetica" circle.
In addition to feedback from other designers, the potential to find work is a huge draw for portfolio sites such as Behance—even more so than socializing. One reason for this is that prospective clients benefit from the site's approach as much as designers do. On job-listing sites like Monster.com and bidding sites like Elance, employers and clients must post an ad, then sift through the resulting flood of applications or bids; Behance works the opposite way. Its search-powered sieve lets clients examine profiles and portfolios for just the right skill-set and style. Then it's the client who initiates contact—privately and only to available, pre-qualified freelancers or job candidates.
Stay current
Want to see what other designers and artists are currently digging? Struggling to keep up with the latest design trends and free resources? Mainstream link-sharing sites such as StumbleUpon and Digg have been around for years, but they cover such a broad range of topics that finding design-specific content can take far too much time and energy. Instead, look to link-sharing sites built exclusively for creative professionals. DesignFloat, DesignBump, and Designmoo offer general discussion on creative topics with an emphasis on graphic design, Web design, and illustration. DevMarks, on the other hand, focuses exclusively on Web design, whereas Designer Pages caters to industrial designers, interior decorators, and architects.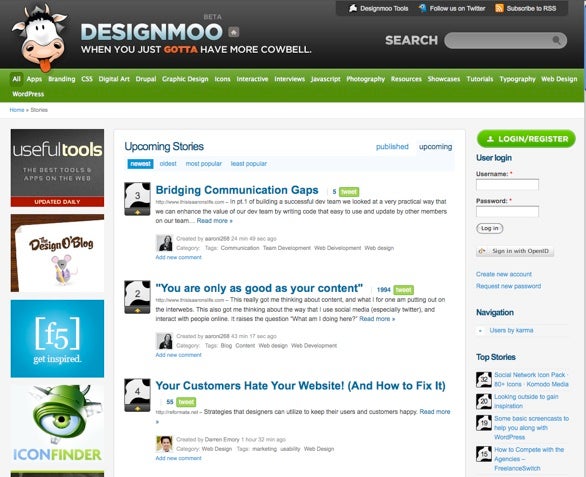 These link-sharing services act as a recommended reading list compiled by and for creatives. If one designer finds a Web site or blog post compelling, he or she can share a link and excerpt with the community through browser bookmarklets. Links are then categorized and tagged, making it easy for anyone to find specific content. Other community members can show their interest in (or dislike of) the clipped story by voting on it, leaving comments, or rebroadcasting it to their own network of contacts.
The end result is a peer-built, democratically ranked index to relevant, vetted content. Links to the best content are voted up and passed around while the lower quality or less informative material is voted down and discarded. If you're after quality information on branding, jQuery, client contracts, textile trends, or any other creative subject, you can often track it down faster by bypassing Google and starting with creative link-sharing indexes.
Stay connected
Whatever your creative craft, the Web contains a growing community of your peers. Plunge into that network using these services and get noticed, informed, connected, and empowered.
[Pariah S. Burke ( www.iamPariah.com) is a design- and publishing-workflow expert. He is the author of "Mastering InDesign CS3 for Print Design and Production" (Sybex, 2007) and the publisher of Designorat.]