With all the social-networking services out there, you can easily find yourself spending more time switching between Web sites than you do actually using them. Rather than jumping back and forth, save yourself some effort by using a desktop program that brings your social network to you. There are many good programs for managing specific networks, including Iconfactory's $15 Twitterrific for Mac ( ), for Twitter feeds, and Infinite Sushi's free 1001, for Flickr feeds, but my favorite is Cosmic Machine's $15 EventBox. This program, which is still a beta release, not only lets me follow what's going on with several of my favorite social networks at once, but also allows me to view RSS feeds, thus eliminating the need for yet another application on my Mac.
EventBox puts everything in a single window, with your networks listed in a source column to the left of the content-viewing area. To view any particular network, you simply click on its icon. To get a quick overview, you can use smart folders to show all unread activity, favorites, or recent activity at once.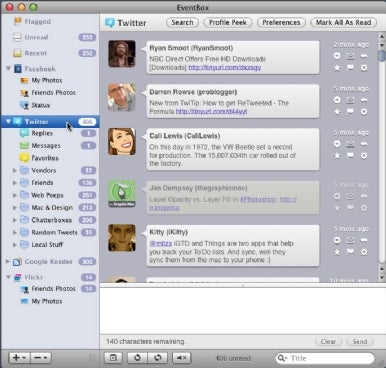 The Facebook module lets you view your friends' status updates and photos, as well as upload your own. The Flickr module acts in much the same way, allowing you to view and upload images to your account, as well as see comments made on your photos. You can enter your favorite RSS feeds manually or, if you use Google Reader, have them imported automatically, so you can keep up with all your favorite blogs in one place. EventBox also offers Reddit and Instapaper integration.
The crown jewel of EventBox is how it works with Twitter—it's one of the most comprehensive programs available for the service. Viewing tweets, @replies and direct messages is just the start. EventBox offers URL-shortening, follow and unfollow, retweeting, and search features, as well as smart folders to make organizing your Twitterstream easy.