Resident Evil is king of the horror survival genre. Since its release in 1996, it seems like there have been as many sequels developed for as many different platforms as there are bloodthirsty zombies to battle in the game.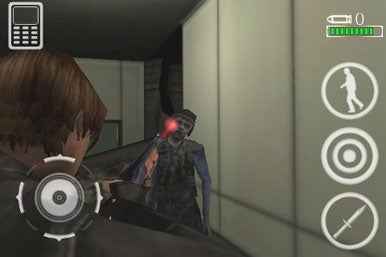 Add the iPhone to that multitude of platforms, now that Capcom has brought us Resident Evil: Degeneration. The game, developed specifically for the iPhone and iPod touch, is played in a 3-D environment from a third-person view looking over the shoulder of your character.
In Resident Evil: Degeneration, you play the part of franchise hero Leon Kennedy who has been dropped in an airport full of murderous zombies and other assorted abominations. You carry out missions, ranging from locating survivors and key cards to finding medical supplies and further clues to the backstory, all the while blasting through hoards of undead. There are 12 chapters to complete in order to beat the game. (A free lite version lets you play the first chapter to get a feel for the game.) For added replay value, Resident Evil offers a mercenary mode that you can unlock by beating the game in which you have to kill as many zombies as you can within a certain amount of time.
All sorts of weapons—shotguns, sniper rifles, hand grenades, and more—are scattered through the airport. You'll also find healing herbs, ammunition, keys, and even cash and valuables. You'll even encounter merchants selling supplies and weapons; you can pay to upgrade your current weapon's fire power, reload time, and the amount of ammo it can hold.
Resident Evil's iPhone interface and controls are quite efficient. For instance, there's a cross-hair icon you tap to pull out your gun; it doubles as a fire button. Similarly, the virtual D-pad you use to walk around can also aim your gun once you've drawn it.
Several buttons only appear in Resident Evil when you need them, keeping the iPhone's screen uncluttered. An icon in the upper left brings up the map as well as your items, a log, and options. That map makes navigating the airport easy, as it indicates where you've been and which doors are locked or unlocked; it also shows the current objectives and marks where merchants are.
Capcom has managed the controls extremely well in Resident Evil: Degeneration. My only complaint: when you aim your gun the game moves really slowly. Thankfully, so do the zombies, so this didn't hinder the gameplay too much.
Using the built-in accelerometer, you can tilt forward to reload and shake the device to fend off attackers. There are also animated scenes in which you have to quickly push appearing buttons to avoid attacks or falling debris.
I was impressed with Resident Evil's graphics. At times, it was hard to believe I was playing the game on a mobile device and not a gaming console. The audio is quite immersive with its creepy soundtrack and the sounds of zombies breathing down your neck.
When I first downloaded Resident Evil: Degeneration, I wasn't really sure how a game like this would play out on an iPhone or iPod Touch. After a few minutes of play, though, I came away impressed with how Capcom brought Resident Evil to the iPhone. If you're a fan of the Resident Evil franchise or just a fan of action adventure games, I don't think you'll regret the $7 cost.
Resident Evil: Degeneration is compatible with any iPhone or iPod touch running the iPhone 2.2.1 software update.
[Tim Mercer is a technology enthusiast, graphic designer, and blogger, whose blog, digital-artist-toolbox.com, offers free resources to the digital artist and graphic designer.]