At a Glance
Expert's Rating
Pros
Extensive reporting options
Effective spam filtering
Cons
Non-standard and confusing user interface
No IMAP support
Complicated setup
Runs as a standalone program
No full user manual
Our Verdict
Since we last reviewed SpamX in early 2007 ( ), the program has gained an entire version number, progressing from 3.0 to 4.0. Typically such a change would indicate large-scale changes in an application. In the case of SpamX, however, there are only a handful of changes that differentiate the two versions.
Behind the scenes, version 4 (which is now Universal) includes improvements in the methods used to identify links in spam messages, a new method of identifying messages on the server such that they don't need to be repetitively tested, and minor bug fixes.
From an end-user perspective, however, there's actually only one change that you'll notice when using the program, and you'll only notice it when you first install the program: there's now a setup assistant to walk you through getting the program up and running.
Even with a setup assistant, however, getting SpamX running is more complicated than it needs to be. The assistant presents screen after screen of instructions (in a very small font) to walk you through the setup process. For the most part, these steps aren't hard, but the small font makes it more tiring than it should be.
More of an issue is that the setup assistant doesn't automatically set up entries in its system for your existing e-mail addresses. Instead, you have to switch over to Address Book, export all your contacts as vCards, and then import them into SpamX. SpamSieve ( ) and Personal Antispam ( ) both automate this step, which is one of the benefits of using a Mac-specific program. SpamX is written in Java and runs on OS X, Windows, and Linux, and as such, sacrifices some platform-specific features and user interface niceties for cross-platform compatibility.
Once you get past the setup assistant, SpamX 4 is essentially identical to SpamX 3, and that's not necessarily a good thing.
SpamX won't work in proxy mode with Mail ( ) or Entourage ( ), so you'll have to use it in scheduled mode, which means using your regular Mail account in manual mode–so that you don't automatically download spam before SpamX can find and delete it on the server. SpamX still only works with POP accounts; there's no IMAP support.
SpamX doesn't use blacklists or content-based filtering, though you can use a personal blacklist and whitelist for blocking and allowing certain addresses. How the program actually works isn't disclosed; the author fears that revealing the methods used will give an advantage to the spammers. If you're one who likes to see the nitty-gritty details, you probably won't like this close-minded approach.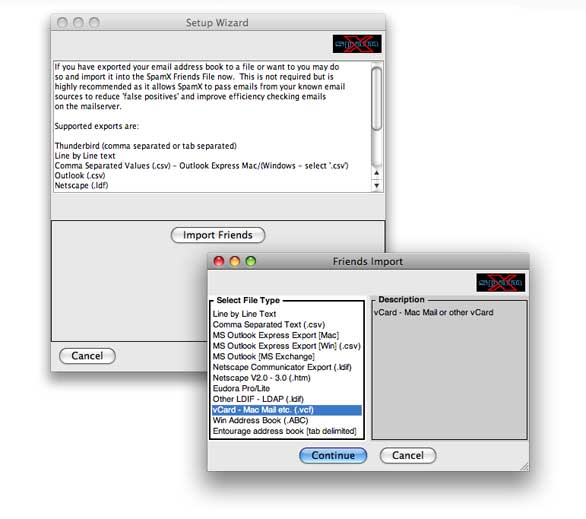 The interface, due in part to the use of Java, is non-standard and will strike many as "non-Mac-like." The main window in particular looks like a refugee from the early 1990s, with flat 2-D buttons covered with text in various colors, sizes, and locations. Finally, there's still no comprehensive manual, just online FAQs and setup help.
Macworld's buying advice
Despite the new setup assistant, getting up and running with SpamX 4.0 is more complicated than it should be. Once running, the program's non-standard interface and standalone nature make it hard to use the program effectively. Overall, these issues make SpamX tough to recommend—SpamSieve, SpamSweep, and Personal Antispam are all better alternatives for Mac users looking to block incoming spam.