My editor sent me an e-mail the other day asking about sundry matters in a review, when he made an observation about a rating I'd given a particular app: "I assume that's because nothing's ever good enough for you."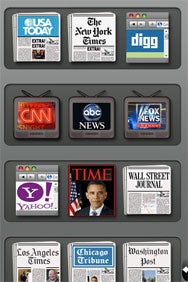 Hmmm. I wouldn't say that nothing's ever good enough. I'm no perfectionist; I'm just stingy with my praise. A mouse rating is like any other form of currency. Too many accolades given too freely and they begin to lose value. Besides, everyone knows that not every app is great. Most are merely adequate.
Some apps aspire to greatness, and fall just short. With a few fixes, a so-so app could be a great app. Take Classics ( ), which I liked a great deal. (Still do.) That book app was hobbled early on by some catastrophic mistakes, notably large chunks of missing text. It's much better now.
Now consider TapMode's News Addict for the iPhone and iPod touch. If this review had appeared a week earlier, it would have been a bloodbath. Seemingly well designed, what ruined News Addict was the simple act of trying to read an article. When you tapped on some stories, what you got was tiny, unreadable text. Landscape mode was little better.
The problem, as far as I can tell, had to do with the iPhone 3.0 OS upgrade. The developers made some fixes, and an update appeared in the App Store on July 1.
Read more…
The target audience is in the app's very name. The developers seek to give news junkies a single place to go for top Internet news sites. And, with a few notable exceptions, such as Politico and Huffington Post, they're all here: USA Today, The New York Times, CNN, ABC, Fox, CNBC, MSNBC, CBS, NPR, Newsweek, Time, The Wall Street Journal, The L.A. Times, Chicago Tribune, Washington Post, Reuters, Associated Press, CNET, Google, and even ESPN have been optimized for the iPhone and iPod touch.
The interface is pleasing, and navigation is a breeze, with sources on the home screen laid out newsstand style. TapMode designed the app to use the handheld device's full screen, which allows for more information and makes for easier, more economical reading.
I wish the app would let users move around and re-order the sources to put personal favorites at the top of the screen, much as Classics lets users rearrange the bookshelf. But that's a minor quibble, really. When you tap on a source, up pops another graphically appealing page of story headlines, usually accompanied with pictures.
I still have concerns about the inability to adjust the type size in News Addict. With the update, the articles are readable for the most part. But it's easy to imagine some readers would want larger type. Landscape mode helps. You can also zoom in and out of some text by spreading or pinching your fingers, as you would with photographs. Unfortunately, the text doesn't wrap to the screen.
Priced at $1 as of this writing, News Addict is a very good app—not as thorough or as customizable as an RSS reader, perhaps, but a solid one-stop shop for news. Now that TapMode has resolved the inconsistent display of article text, I hope the developers will expand the app's sources and allow users a bit more freedom to customize. That would be more than "good enough" for me.
News Addict is compatible with any iPhone or iPod touch running the iPhone 2.2.1 software update.
[Ben Boychuk is a columnist and freelance writer in Rialto, Calif. Feel free to e-mail him.]