Crossing the streams a bit today, I have a Mac 911 kind of question that deals with a Playlist kind of subject. Nick Hyde's tale of woe goes something like this:
I tried out Dan Frakes' instructions for setting up my iPod nano to autofill and it works great, but can I still load podcasts and use autofill? So far every time I autofill it wipes out the podcasts. Can't they work together?
They can, but it requires a little finagling. To review, in order for the autofill feature to work, you must enable the Manually Manage Music and Videos option in the iPod's Summary tab. You then flick down the triangle next to the iPod under the Devices entry in iTunes' Source list, and select Music. The Autofill area appears at the bottom of the iTunes window.
Now, click the Settings button in this area. In the Autofill Settings window that appears, make sure that the Replace All Items When Autofilling option is unchecked and click OK.
Move to the Podcasts section of iTunes and drag the podcasts you want to listen to, to the iPod in the Source list. They will be copied to the iPod.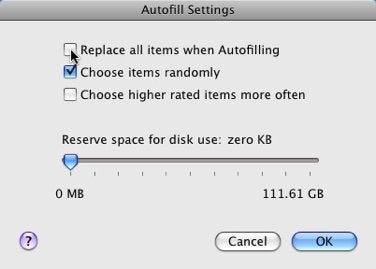 Select the iPod's Music entry, press Command-A to select them all, and press the keyboard's Delete key. All the music on the iPod will vanish. (Of course you can selectively delete tracks if you like.) Choose an Autofill source from the Autofill From pop-up menu and click the Autofill button.
iTunes will fill as much of the iPod's empty space as you've alloted in the Autofill Settings screen without overwriting your podcasts. Once you've listened to those podcast episodes, manually delete them from the iPod the next time you attach it to your Mac (by selecting them and pressing the Delete key) and replace them with another batch of episodes by dragging them to the iPod's icon in the Source list.