Freefall'n, a $2 game from BunsenTech, is a fun but repetitive skydiving game for the iPhone or iPod touch.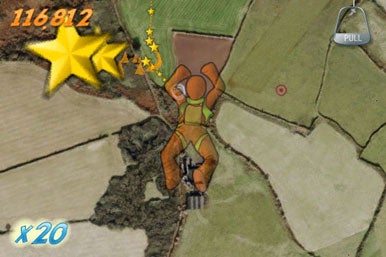 As you rock out to the game's poppy (but again, repetitive) soundtrack, your goal is to guide the skydiver by tilting your iPhone ever so gently in the right directions. As you hurtle toward earth, you can collect yellow stars along the way for points. As you fall, you can also maneuver through numerous floating rings, which add major multipliers to your score. Eventually, you'll need to grab one of the very few red stars, which enables your parachute's pull cord. Swipe down the screen to engage, and then coast as gently and accurately as possible to your target on the ground.
It took me a few jumps to really nail the right tilting action down, but once I did, the fun level (forgive me) skyrocketed. The physics are fun, and they shift smartly once you deploy the parachute.
Freefall'n offers three modes—easy, medium, and expert—and they really add some extra value to the game. Easy mode presents a very mellow gaming experience where you can idly coast to victory, where expert mode is a much faster-paced thrill. Each has its merits, and they're fun in decidedly different ways.
While the game is fun, there's nothing new to encounter once you've tried each level a few times. But if you want to get a little virtual skydiving under your belt, Freefall'n is certainly an enjoyable way to do it.
Freefall'n is compatible with any iPhone or iPod touch running the iPhone 2.1 software update.
[ Lex Friedman has been on a long, slow descent ever since becoming a regular contributor for Macworld.]