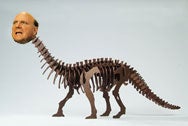 Were you to look at the news in the past couple days, you might be excused for thinking that we'd revved the DeLorean up to 88 miles per hour and jumped back to the good old days, when Microsoft and Apple were constantly at each others' throats. Only this time, the positions are seemingly reversed: it's Apple who's flying high, and Microsoft who's trying to play the part of the scrappy underdog.
Apple has gained a lot of traction over the past decade. The iPod pushed the company back into the mainstream, and Cupertino only continued gaining currency as Mac OS X matured and it released some of the slickest machines around. Add in Microsoft's own problems dealing with Windows XP and its less-than-stellar successor, Vista, and Microsoft has started seeming like a non-entity these days.
Google's recent announcement that it's working on an OS—even though it won't ship for at least a year—prompted numerous articles wondering about whether or not the vague foray by the search engine giant would be enough to topple the dwindling but still powerful Microsoft hegemony. Ten years ago, there was nobody with that kind of clout.
Microsoft has tried to strike back, but the company's public relations machine has never been quite on par with Apple's, at least when it comes to style and creativity. A daring first attempt at an advertising series featuring Bill Gates and comedian Jerry Seinfeld was amusing, but many viewers were more perplexed than intrigued, and the series lasted a mere two spots. Subsequently, Microsoft tried to co-opt Apple's popular "I'm a Mac" ad series with several "I'm a PC" spots, but the result was even more eyebrow-raising, as it mainly served to confer a degree of legitimacy on Apple's original commercials.
That led us directly to into the realm of Microsoft's Laptop Hunters series, in which mere mortals—people like you and me! Well, except when they're actors—are told that if they can find a computer underneath a certain price ceiling, Microsoft will buy it for them. The ads themselves were clear shots at Apple, whose products have a history of commanding a price premium over their PC counterparts. In most of the spots, Macs are derided as being underpowered and more expensive.
That's three major strategies in a matter of months, which gives the impression of Microsoft throwing spitballs at a wall until one of them sticks. So far, Laptop Hunters has been the most successful for Microsoft, spawning half a dozen different spots, and—according to Microsoft Chief Operating Officer Kevin Turner—even prompting a phone call from Apple's legal department asking that Microsoft cease airing the ads, due to recent aggressive price cuts by Cupertino that rendered the commercials out of date.
That wasn't the only shot Turner took at Apple in his recent presentation at Microsoft's Worldwide Partner Conference; he also said that Microsoft would indeed be launching its own chain of retail stores this fall which, in many cases, will be located "right next door to Apple stores." Redmond hired Wal-Mart veteran David Porter to head up its retail operations; Apple's retail division, meanwhile, is headed by former Target executive Ron Johnson, which itself helps highlight some of the philosophical differences between Microsoft and Apple.
So why the sudden resurgence of hostilities between the two companies? Apple's regularly issued a number of digs at its old enemy in the recent past and, more to the point, it's really worked for the company, though you might argue that Microsoft has done plenty of damage to itself as well. In actively rebutting Apple, Microsoft clearly wants to show that it's not going to take these criticisms lying down.
More to the point, I think Microsoft's a little worried that it's becoming irrelevant. Like the monolithic IBM before it, Microsoft is a victim of its own enormous success. And like IBM, Microsoft's not in any danger of dying—let's not forget the company still controls the majority of the OS market—but that position of the 800-pound gorilla has made it lazy, complacent, and vulnerable. Even its few-and-far-between attempts at innovation have been a little ridiculous—the expensive and impractical touch-sensitive Microsoft Surface, for example. And the forthcoming Windows 7 is an attempt to turn Vista into what it should have been from the start: a solid competitor to OS X and not much more.
These days, Microsoft products are often what people use because they have to, not because they want to. And while that was good enough in the days when computers were serious investments, the PC market has reached the point that consumers can usually easily hold out for the computer they really want.
By positioning itself as the challenger to Apple's new anodized aluminum dominion, Microsoft is taking a play from Apple's book—but it's a hard and potentially disingenuous play to make when you still control upwards of 90 percent of the market. The biggest advantage Microsoft has is its ubiquity, but that just serves to make the company a bigger target, in the same way that the majority political party takes more flak because they're in power.
After all, when you're at the top, there's nowhere to go but down.