If users of the popular photo-sharing service Flickr have one complaint, it's that the image uploader on the Flickr Web site is horribly inconvenient to use. Flickery offers a desktop-app alternative with a great Mac-like interface and a good balance between features for novice and pro users.
Once you've entered your Flickr account info, the left-hand side of Flickery's iPhoto-like interface shows a list of the various areas of your Flickr account. Clicking on an item in the list—Photos, Favorites, Photosets, Flickr Groups, etc.—displays that item's photos in the preview area on the right. You can also view Saved Searches and the photo streams of your Flickr Friends and Contacts.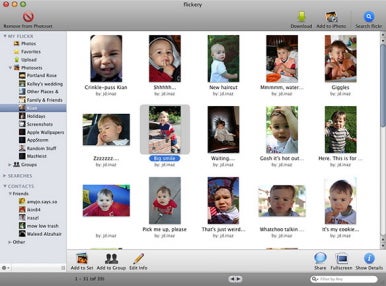 Uploading your photos to Flickr with Flickery is simple. Select Upload on the left and then drag your photo(s) into the preview area. You can give each image a title, description, and keyword tags, as well as set the Flickr visibility, safety level and more. You also have the ability to do some minor editing of your images, including cropping, rotating, and adding image effects, as well as adjusting exposure, white & black point, saturation, and brightness. Once your edits are complete, you simply click on the upload button to post them on Flickr.
Once the files are successfully uploaded, you can still edit basic photo info such as the title, description, and tags from within Flickery and apply them to the uploaded imges. You can view comments from the Flickr community, and add your own, right in Flickery with a click on the Info button. You can also share your images via e-mail or Twitter, and there's a full-screen option for viewing your photos or any collection of photos from Flickr Contacts or Groups you belong to.
I particularly enjoy the Search function of Flickery, which allows you to search all of Flickr by text description, tags, Flickr user, Type, Safety Level, and Creative Commons License. The results of your search are displayed in the preview area, where you can enlarge the thumbnails for a better view.
After a couple months of use, I've come across only two drawbacks, one functional and one cosmetic. First, adding an image to an existing Photoset is cumbersome. You have to first upload the image, then select it in the Photos view, then click on the Add to Set (or Group) button. This brings up yet another dialog box where you must scroll through a Cover Flow-like list of Sets (or create a new set). The process would be much easier if you could simply choose a Photoset in the initial upload screen. My second complaint is with the ugly, wrinkled-paper background of the photo comments window, which is unnecessary and makes it difficult to read the text.
Those issues aside, I really like Flickery. It's a great application for both novice and serious Flickr users, it looks fantastic, and it's very simple to use.