When it comes to celebrity news and profiles of regular people doing extraordinary things, People remains a newsstand favorite. But People isn't resting on its print edition—it's moved into the digital age, first with a Web site and now with an app for the iPhone and iPod touch.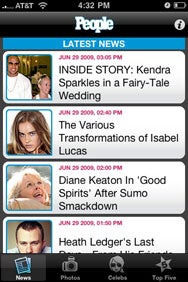 The home screen in People Celebrity News Tracker contains all the latest news arranged in reverse chronological order like a blog. Tapping on a story brings up the full article and a relevant photo. A Photos page includes lots of celeb pics again arranged by date. A Celeb page has a long list of celebs; tapping on one brings up the latest news as well as photos and a biography. Finally, the Top Five page contains the top five most read stories this week.
People's iPhone app is essentially a mobile collection of what's available on the Web site, so you could theoretically save yourself the $2 cost of the app by reading People.com via the built-in browser on your iPhone or iPod touch. The advantage People Celebrity News Tracker offers is a super clean interface where stories and photos are nicely laid out for quick and easy access.
With that said, I find it a little annoying that People includes ads in a paid app. That's fine for free downloads—developers have bills to pay, too—but it seems excessive when you've already handed over $2. Still, iPhone users dying for the latest celebrity gossip will certainly like the app, ads and all.
People is compatible with any iPhone or iPod touch running the iPhone 2.2 software update.
[Tim Mercer is a technology enthusiast, graphic designer, and blogger, whose blog, digital-artist-toolbox.com, offers free resources to the digital artist and graphic designer.]