Salling Software updated Salling Media Sync to version 1.1 on Thursday. Chief among the additions to the media sync software are support for transferring music and podcasts to the Palm Pre smartphone, as well as support for transferring photos to all compatible devices, including the Pre.
Salling Media Sync requires Mac OS X 10.4.11 or later, iTunes 7.6 or later for music and podcast syncing, iPhoto '08 or '09 or Aperture 2 for photo syncing, and a compatible device. Salling Media Sync is free for basic use, or costs $22 for a faster syncing version (1.1 is a free update for registered users).—Dan Moren
KeyBag gets new database engine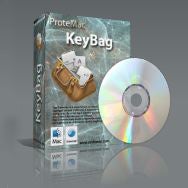 ProteMac's KeyBag has been updated to 1.7. The new version of the keystroke monitor and recover software has a new database engine, and stability and security have been improved, according to the developers. KeyBay lets you record all keystrokes typed on any applications, and can show you statistics of every app utilized. It requires Mac OS X 10.4 or later. A free update for registered users, KeyBag costs $50.—Peter Cohen
Workamajig includes revamped CRM module
Workamajig, the software for ad agencies and other creative and design companies, is now up to version 10.0.2.7. It sports a revamped Customer Relationship Management (CRM) module and improvements for Mac OS X 10.5.7. The update also includes links to the Strata Media Buying Interactive module. The update is being rolled out at no cost to current users.—PC
Note: When you purchase something after clicking links in our articles, we may earn a small commission. Read our affiliate link policy for more details.