Scientists are attempting to prove that every minute, seven new Twitter apps for iPhone are launched. That may not be accurate, but the onslaught of Twitter apps means two things: One, that there's a tremendous variety of feature sets and qualities, and two, that my work with Macworld will remain steady for a long time.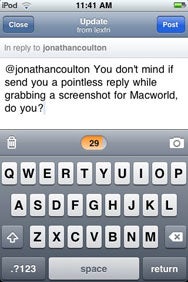 Newcomer Birdfeed—a $5 app from System of Touch— is a full-featured Twitter client that performs capably when pitted against its top competitors, Tweetie ( ) and Twitterific ( ). System of Touch promotes Birdfeed as sporting a "clean, simple design," and it's absolutely right. The minimalist interface suits Twitter's condensed nature well, and the iChat-esque speech bubbles are subtly drawn. And scrolling in Birdfeed is a treat.
Why? I'm glad you asked. First, the scrolling is silky smooth, without annoying hiccups that sometimes mar iPhone apps. But even cooler is Birdfeed's concept of "infinite scrolling." When you scroll to the bottom of your timeline, the app automatically starts loading older tweets. It works great, and once you're accustomed to it, it's annoying that other Twitter clients (for iPhone or on the desktop) don't offer it. (Of course, now that I'm in love with the feature, I really wish Birdfeed would start loading older tweets even before I reach the bottom, so that the background loading was a bit more transparent.)
Birdfeed's multiple Twitter account support works well, as does search and trend browsing. Tapping an individual tweet brings up a screen with options to reply, forward, or favorite. When you tap a link within a tweet, it loads on an in-app browser, and you can re-post the link, save it to Instapaper, or e-mail it to a friend (which exits Birdfeed). The unique countdown widget as you pen your 140-character notes cleverly integrates a tiny progress bar. It's unnecessary, but fun. Again, that's a good match for Twitter in general.
Read more…
I did encounter a lone bug when I navigated away from a search too fast, where I was theoretically on the Accounts screen, but my search results were still showing. Relaunching the app fixed that right away. Overall, Birdfeed is an excellent Twitter client, and I'm torn between it and Tweetie for which deserves the most prominent spot on my Home screen.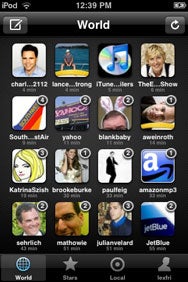 Reportage, on the other hand, doesn't aim to compete as a regular Twitter client. The $3 app from WhereCloud is a different beast altogether. (It's the rare Twitter iPhone app that doesn't reference a bird or the letters "tw" in its name, so this is already exciting.)
The unusual interface is immediately reminiscent of the iPhone's springboard desktop; your friends' avatars are displayed on a grid, with the most recent tweeters sorted first. You can tap on a friend to see that person's most recent tweets, though that screen tends to load painfully slowly. Double-tapping a friend loads a screen with that person's most recent tweet and some profile details. From this screen, you can also reply or retweet. You can also "star" from this screen, though you're not favoriting the tweet in question—instead, you're indicating that you're especially interested in this person's tweets, and want them to appear under your "Stars" tab. For whatever that's worth.
Reportage aims to enable its users to "untie themselves from the timeline" and "quickly access the tweets that are critical to you" while you're on the go. I can't say that any of the tweets from the folks I follow qualify as "critical" (sorry, @jsnell!), and I tend to limit the folks I follow to the ones whose updates I genuinely care about. But frankly, if Reportage is fulfilling a Twitter need, it's not one I have. When I have time for—and interest in—updates from the folks I follow, I'd rather fire up Tweetie or Birdfeed and get my full timeline. Reportage is interesting, but it's just not useful.
Birdfeed is compatible with any iPhone or iPod touch running the iPhone 2.2.1 software update. Reportage runs on both devices under the iPhone 2.2 update.
[ Lex Friedman writes about Twitter, and sometimes other things, for Macworld.]