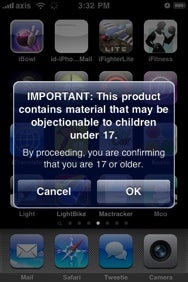 I occasionally check out my Google Reader feeds on an iPhone app called iNews, which lets me load a selection of my feeds rather than going through my entire list of subscriptions. It also lets me read them offline.
The other day, version 2.0.6 appeared (by the way, nice of you to push 16 updated apps at once, Apple—second time in a week) and, upon updating it, up pops a dialog screen warning me that I'm downloading software that "may be objectionable to children under 17." Since I was updating several other apps as well, I couldn't help but wondering which app had prompted this message.
Apple enacted the rating system along with the release of iPhone 3.0 last month, which featured beefed up parental ratings. Developers rate their own applications at either the 4+, 9+, 12+, or 17+ levels, the rubric for which is spelled out (iTunes link) if you click the rating on any app in the store. Only the 17+ rating is actually enforced, though—Apple says you must be at least 17 to download an application of that rating.
It would not have occurred to me that Apple would require the innocent little news reader application to be rated anything more than a 12+, or even higher than a 4+ for that matter. I mean it's a news reader for crying out loud: what could be objectionable to anyone under 17? After all, Apple's been pretty clear about what kind of content it will and will not let in the App Store.
Upon opening the app's page on the iTunes, the App Store presented me with a lovely list of offenses, warning me about the dangers of reading filth from purveyors of naughty news such as ABC, CBS, FOX, The New York Times, CNN, the Associated Press, Reuters, BBC, The Wall Street Journal, NPR, The Chicago Sun Times…the list goes on. (Readers' Digest? Really?) The likes of David Pogue, Walt Mossberg, and Andy Ihnatko have clearly been producing material unsuitable for the underaged.
This issue hasn't gone unnoticed by developers, either. Outspoken Instapaper creator and lead Tumblr developer Marco Arment recently voiced his take on Apple's seemingly absurd rating system for the App Store. Apple sent him back to work on Instapaper Pro 2.1 because the 12+ rating that he had set was considered inappropriate for such an app.
It seems that the reasoning behind this is that both iNews and Instapaper—and very likely other apps of similar nature—allow unfiltered access to the Internet, where the user can freely obtain potentially objectionable content. Apple apparently does not want teenagers to read the news.
Never mind the fact that the freely available Google Mobile App (still sporting a 4+ rating) can search the entire Internet with no difficulties. Failing that, Apple's own Safari is a gateway to unfiltered internet access. Is the company going to play nanny on that as well?
To add insult to injury, apps that are rated 17+ are not eligible for promo codes, as our good friends at TUAW discovered. Promotional codes are often used to provide writers with review copies of an app; no promo codes means fewer reviews, which in turn prevents many developers from getting wider exposure for their software. In addition, developers of news readers, image viewers such as Flickr apps, search apps, social networking apps, and more may be prevented from giving out copies of their apps for promotional considerations, another popular marketing technique.
You might think 17+ is limited to adult-only apps. Apple thinks otherwise.