Firemint on Friday announced an update to their Real Racing game for the iPhone and iPod touch, adding three key features.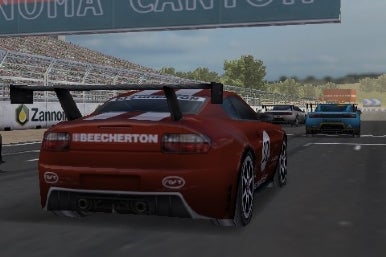 Firemint is the publisher of the popular air traffic control game Flight Control, as well as Real Racing, a realistic auto racing game for the iPhone and iPod touch. The company recently posted a tech demo that showed Real Racing optimized for the iPhone 3GS's beefier hardware, with forty cars on screen at once—more than six times as many as the current release allows, which is optimized for play on all iPhones. (This update does not add that feature, for what it's worth.)
The new update to Real Racing, free for registered users, lets you choose songs from your iTunes Music Library. Alternately an all-new soundtrack is included that has been written for the game.
Exotic racers joining the existing hatch, sedan and muscle car classes; six brand-new models are available to unlock through the Career Mode, with an additional two championship. What's more, players can also show off new vehicles in multiplayer races for up to six players at once over a local Wi-Fi network.
Firemint has added the option to choose the level of impact of computer-controlled driver collisions on the player. You can also tweak the game with accelerometer calibration and speed display toggle. Steering wheel and vehicle control has been refined, and you can now drive "Team Flight Control" cars.
Real Racing costs $10 from the App Store.