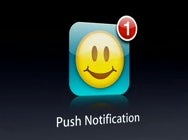 The release of iPhone 3.0 at last brought support for push notifications, the technology Apple first announced back at WWDC 2008, only to quietly stop talking about it as it reached and passed its original due date. Fortunately, the feature re-surfaced at WWDC 2009 as part of the new iPhone OS. But with push notifications now in the wild, it's up to developers to take advantage of them.
So far a few uses have seen the light of day, such as instant-messaging clients and even an iPhone app for Growl notifications, but what of that most hot, hip, and with-it of social networks, Twitter?
A few Twitter iPhone apps have already started to integrate push notifications, though the implementations have varied. A few clients, such as Twitbit, and iTwitter have introduced push notifications for both direct messages and mentions (what Twitter formerly called "replies") into their existing programs.
While this is undoubtedly a better solution than adding push notifications for every Twitter update from your contacts—unless you enjoy exclusively using your iPhone as a device for dismissing pop-up dialog boxes—even managing mentions can still be overwhelming, as Daring Fireball's John Gruber points out, for those with a large number of followers. Limiting notifications exclusively to direct messages, or providing more fine-grained controls over what triggers a push notification is preferable.
Twitter's direct message functionality, which lets you send a private message (as long as the recipient follows you), particularly benefits from the addition of notifications, since it's become a popular way for people to communicate, just like Facebook messages. In some cases, it's an excellent substitute for sending text messages, and push notifications helps bring it up to snuff with the iPhone's SMS support.
Several of the most prominent Twitter clients have yet to add any push notification support, however, such as Twitterrific, Tweetie, and Birdfeed.
"It's definitely something we want to do," Birdfeed developer Buzz Andersen told me in an e-mail. "Especially since we have an emphasis on notifications as a feature within the app." Andersen says they're exploring a number of possible long-term solutions.
Twitterrific developer Craig Hockenberry also said in an e-mail that he's working on push notifications, but wouldn't give further details at present.
In the short term, however, a sort of gray market for Twitter notifications seems to have—if you'll excuse the turn of phrase—popped up, with a few apps existing specifically to bridge that gap by pushing notifications to the iPhone and then allowing you to view the relevant messages in your favorite Twitter app—well, mostly if your favorite Twitter app is Tweetie or Twitterrific, anyway.
Both Polar Bear Farm's Tweet Push and appremix's Boxcar take this approach—though Boxcar only lets you view mentions in a separate app. Both let you choose whether you want notifications for direct messages, mentions, or both.
Polar Bear Farm has in fact managed to turn this into a business model. Not only does the Tweet Push application cost $1 from the App Store, but you have to pay a monthly fee of $1 (one month's worth of notifications comes with purchase, free of charge). This is largely to offset the overhead of relaying the notifications, which is an ongoing cost for the company.
For the most part, though, it does seem that push notifications are a feature that Twitter users are demanding, and it's likely that almost every popular client will have integrated the technology in some form or another before long. Then comes the real question: how will we handle the endless influx of notifications that is sure to await us? One can only hope there will be an app for that.