The Magic Kingdom. The Happiest Pace on Earth. A family vacation in the Florida sun. Nothing could disturb this paradise… until your three-year-old has to respond to nature's call right now.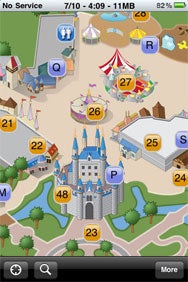 But wait—you don't have to begin a mad dash from one end of the Magic Kingdom to the other. Just whip out your iPhone, launch any one of UPinPoint.com's mobile guides to Disney World, and discover, via the app's helpful maps that there's a restroom behind the Cinderella store just a few steps away. And with that, your Disney vacation is saved.
UPinPoint.com sells several different pocket guides for Disney's Florida theme parks. They're essentially maps that help you navigate your way around the park, helping you find attractions, dining options, and—yes, fellow parents of small children—restrooms. As of this writing, UPinPoint sells three mini guides, covering the Magic Kingdom, Animal Kingdom, and Epcot Center. It also offers the WDW Maps Box Set, which combines those three apps plus ones for Hollywood Studios and Downtown Disney. (The developer says a map for Disney's Blizzard Beach will be added to the Box Set soon.)
Read more…
On my recent trip to Disney's sprawling theme park complex outside of Orlando, Florida, (our first visit to those parks) I found myself using UPinPoint.com's maps throughout the day. While we had done our homework and planned out which attractions we wanted to see, a lot of the planning is tossed out the window when you are in the park and the crowds and the kids are working on you.
With these mini guide maps loaded onto your phone, you might be standing in a crowd between the chipmunks, ducks and giant mice, and yet, with a touch on your iPhone, get a Tinkerbell's-eye view of the whole park so you can plot your path through the crowd and get to the next attraction.
With the Box Set—on sale for $4 as of this writing—you can be in any Disney Orlando property, click the locate button in the bottom left-hand corner and your iPhone will find you on the Disney map. (This GPS-friendly feature works in each of the individual maps as well.)
Each of the individual Mini Guides provides an artfully rendered map of the pertinent theme park. Within the map, you can find the location of every attraction, restaurant and restroom. You can navigate by touching icons and dragging around on the map, or you can search for a specific place and then have it located for you on the map.
Beyond the mapping, the apps offer additional information. Tapping the icon for an attraction or restaurant reveals more details—in the restaurant's case, for example, a description, cost range, and Web link to menus for lunch, dinner and, a kid's menu (if applicable). For attractions, you get a short description, estimated length of ride, and the type of experience you can expect (e.g., slow moving boat ride.) All of this is very useful to inform the decision of "Should we wait in this 60-minute line behind these screaming babies?"
Because of some spotty cellular coverage in some parts of the vast expanse of Disney's complex, the locate button failed to find us on the map a couple of times, so it might be a good idea to keep a paper map handy. Still, WDW Maps Box Set helped me successfully get from Point A to Point B more often than not. If you're planning a trip to Orlando any time soon, the box set—or any of the individual $1 maps—make for a fine traveling companion.
WDW Maps Box Set and the individual mini guides are compatible with any iPhone or iPod touch running the iPhone 2.2.1 software update.
[Jeffrey Hatton is a freelance writer living in Virginia.]