Instead of just the ordinary typed tweet, how about letting people actually hear what you've got to say? With TweetMic from Voicetal, you can record and publish audio tracks, or "tweetcasts," directly to your Twitter account.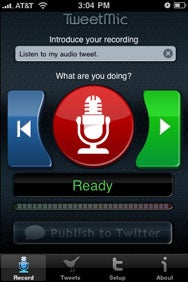 TweetMic makes it easy to record your message by tapping the red button in the middle of the screen and talking. After you've finished, you can play the recording back to be sure it's ready to publish. Recording time is unlimited, so your message can be as long as you want.
TweetMic features a text field at the top of the screen where you can introduce your recording with a typed message; that message will proceed the link to your recorded audio in the tweet. Once you're ready, just tap the Publish to Twitter button and your tweet is sent.
If you try to use TweetMic with an EDGE or 3G connection, the app will give you a warning to use Wi-Fi if possible—otherwise, upload times may be long or even time out. Unfortunately, if your recording is interrupted by a call, you completely loose it: there is no way to save a recording for later publishing.
Even still, TweetMic does what it claims to do pretty well which is record and tweet audio clips.
TweetMic is compatible with any iPhone or second-generation iPod touch running the iPhone 2.2.1 software update.
[Tim Mercer is a technology enthusiast, graphic designer, and blogger, whose blog, digital-artist-toolbox.com, offers free resources to the digital artist and graphic designer.]