Every child knows that just about any inanimate object can double as a gun—sticks, blocks, Legos. The iPhone as virtual firearm is a no-brainer, although it strikes me more as a phaser-type digital device than a conventional "analog" gun. Playing with a handful of gun "simulators" for the iPhone and iPod touch has only solidified my prejudices. At least the virtual ammo is cheaper.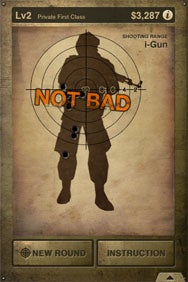 Vanilla Breeze's i-Gun (note the hyphen between "i" and "Gun"; it's important) for the iPhone and iPod touch offers few of the joys and many of the frustrations of firing a real live gun. The weapons are lovingly recreated, and Lord knows the app makes plenty of noise. But no matter where you point the cursed thing, you never seem to be able to hit your target. The only thing that would make i-Gun more frustrating is if the developers threw in the occasional jam.
Targeting with i-Gun truly is a nightmare. I still haven't figured out what the trick is, even though I managed to score a few "Good Jobs" in the game's shooting range mode. If you can manage to aim properly, there is some silly fun in hearing paper targets moan, wail, crack and break.
Learning to aim is confusing. A short tutorial involves moving around a red dot over a target. But there is no red dot when you actually shoot. Instead, you hold your iPhone or iPod horizontally in your right hand (there is an option for lefties, too) and, point the device away from you as you would with a real gun, and "pull" the trigger with your index finger. You then flip your device back to the standard, vertical position to see your target. Invariably, my bullet went way wide, either left or right.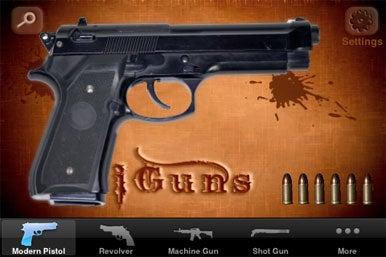 Only by tilting my iPhone toward some unnatural angle—as if holding and pretending to fire a flat rectangular piece of plastic and metal weren't unnatural enough—could I manage to score a hit. Incidentally, I found that I could hit the target almost as well by pointing the virtual gun's business end at myself as I could pointing "down range."
And there is something slightly misleading and unsatisfying in the $2 app's label, "44-in-1 Ultimate Arsenal Experience." Fact is, there are only 11 guns—a Beretta M92, a handgun that looks like a stumpy Desert Eagle, a flintlock pistol, a Mini Uzi, an AK-47, a couple of shotguns, a .44 magnum, a .38 special, the super-awesome Barrett .50-caliber rifle, and, by far the strangest-looking of the lot, a KRISS Super V XSMG System .45 ACP submachine gun. The 44 comes from the limited modifications you can make to each, including adding a silencer, buying an unlimited ammo option, and the two shooting "modes"-free style and shooting range.
So, what works with i-Gun? At least in free-style mode, you don't need to worry about hitting anything. It's pretty much fire-at-will. Also, the animation and the sound effects are generally well done. (I don't recommend the music, however.) The tinkling of spent brass bouncing upon a concrete floor is a nice touch, but not unique to this game. Similarly, you can pump a shotgun by holding your device vertically then lifting and lowering it; reload a revolver by dragging and dropping six cartridges into the cylinder; and reload an automatic by slapping your palm against the thin side of your handheld.
I recommend trying the app's free lite version first. You can fire away with the KRISS .45 submachine gun and get a feel for the game's awkward mechanics. More useful still is the short video demonstrating how to point, shoot, and reload. I only wish that the video showed how to aim properly.
I was curious whether i-Gun, flawed and frustrating as it is, might be the best of the gun apps for the iPhone and iPod touch. I'd say it's the most ambitious of the gun games that I looked at.
Read more…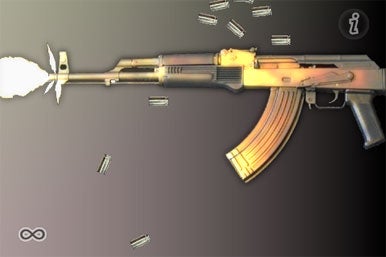 On a lark, I tried David Holtkamp's iGun Pro 2 (no hyphen, please), which also has a lite version. iGun Pro 2 is completely unpretentious, which befits this era of austerity. (I know this because Holtkamp must be saving a fortune on hyphens.) You have four guns to choose from-an M-16, an AK-47 (the app calls it an "AK-57," but we know what it is), a silenced Heckler & Koch MP5, and a Springfield XD .45 pistol. (iGun Pro's free version restricts you to the AK-47 or the M-16.) The app lets you choose among four colors for the pistol-black, gold, camo, and a slightly ostentatious pink. You can also select three firing modes-semi-automatic (meaning one bullet per squeeze of the trigger), three-round burst, and rock-n-roll full-auto, which is no big deal with the M-16 or the AK, but great fun with the Springfield.
What does iGun Pro 2 do exactly? It makes a lot of noise and scares babies and cats, that's what. The sound effects are great. Love that tinkling brass. As with i-Gun (again with the hyphen!), you hold your device horizontally, point and tap your finger on the screen to pull the trigger. You point the handheld up to reload. My only real complaint with the app is the incongruent details. The ammo counter shows rifle cartridges, but the rifles expend pistol brass.
Another app, Invocore's iGuns (plural, no hyphen), aspires to be something more than iGun Pro 2 but something other than i-Gun. The app offers a choice among an automatic pistol (another Beretta M92), a revolver, a standard and a tricked-out M-16, a shotgun, a flintlock, and-as a clever twist-a laser gun and a squirt pistol. iGuns' animation and sound are not especially different from the aforementioned i-Gun and iGun Pro 2, although iGuns does have a grenade launcher. I found reloading to be more of a challenge with iGuns, however. The screen didn't seem to be as responsive as with the other gun apps.
The gimmick here that sets iGuns apart is the app's use of Wi-Fi to let you have gun battles with your friends. "Shooting a gun simulator by yourself gets boring," the developer says. And how. Gun fighting only works with Wi-Fi, not 3G or EDGE, but the developer says a Bluetooth version is in the works.
If I had to give i-Gun's developers any advice, it would be to improve the targeting and to emulate iGuns' gun-fight feature. Oh, I'm sure most people would still miss their moving targets as much as the stationary ones, but it would at least make the game more interesting.
All apps are compatible with any iPhone or iPod touch running the iPhone 2.2 software update.
[Ben Boychuk is a columnist and freelance writer in Rialto, Calif. Feel free to e-mail him.]