I've been a musician for most of my life. While I can hold my own writing instrumental music, I struggle with writing lyrics. I usually need "divine inspiration" to get the process started. For even seasoned lyricists, writer's block can always get in the way of finishing a good song. Song Idea Generator by The Directors Bureau Applications comes to the rescue by helping inspire a songwriter's creative ingenuity.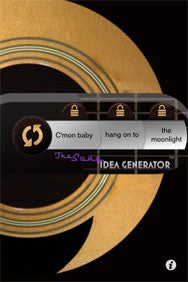 The app presents three random phrases, which, together, form a short lyrical idea. Either shake your iPhone or iPod touch, or tap on the shuffle icon, and the phrases change to form a new lyric. One time, you might get something pretty good like "Woman remember your tears," while other times you might get a more disjointed phrase, like "Yeah take a piece of your mouth." Luckily, the app lets you fine-tune a lyric by locking phrases you want to keep and then shuffling only the unlocked ones. So, in the second instance, I locked the first two phrases and shuffled the last one to produce "Yeah take a piece of a dream." Much better. (You can also accomplish the same result by flicking only the phrase you want to change.)
Currently the app supports only English; however you can delete (but not edit) the built-in phrases and easily add your own. So, with some work, it would be possible to make a complete foreign language version of the app. (The developer ought to seize the opportunity and sell localized versions in the App Store.) Also, I find myself writing down all the lyric ideas I like, so having the ability to save lyrics would be very handy.
While Song Idea Generator won't turn a hack songwriter into a pro, I think that it does help get the creative juices flowing. So, "divine inspiration" is now at my fingertips for only a dollar.
Song Idea Generator is compatible with any iPhone or iPod touch running the iPhone 2.x software update.
[Brian Beam is a musician, Drupal web developer and partner with BOLD Internet Solutions, living somewhere near Kansas City.]