Dan Gilbert has released an iPhone version of the beloved puzzle game Triazzle. It costs $3 (through August 7, when the price increases to $4).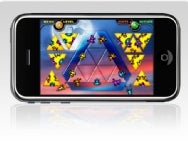 Triazzles are brain-teaser puzzles — in real life, they're paper jigsaw puzzles in which each piece (and hthe entire board) is shaped like a triangle. The iPhone and iPod touch version continues that basic gameplay concept. There are 9 and 16 piece puzzle formats, three difficulty levels, special kids' games for younger player, and more.
Triazzle makes use of iPhone capabilities — puzzle characters animate and "come to life" when they're correctly solved, and puzzle pieces can be touched and dragged into place, or tapped to rotate. You can store puzzles in "docks" when you're not using them and shake any puzzle to solve it.
System requiremetns call for an iPhone or iPod touch running iPhone OS 2.2.1 or later.