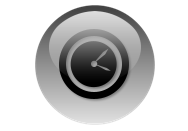 Good as Leopard's Time Machine is for backing up your Mac, it depends largely on storing your information locally. Should, heaven forbid, something terrible happen to the place where you keep your computer and your backup drive, then there goes all your data. That's where the importance of an off-site backup becomes quickly apparent.
Fortunately, plenty of services let you store data online. If you want to combine the convenience of your Time Machine backup with the safety of an online backup, there's Jumping Bean Software's Time Warp. This $25 program (free while in its current beta phase) allows you to store Time Machine backups on Amazon's S3 online storage service.
Once set-up, Time Warp will perform a daily backup of changed files to your S3 account. Using filters and compression, it keeps the amount of space and bandwidth used to a minimum—good, since Amazon charges by the gigabyte transferred and stored. As a result, Jumping Bean claims that backing up 20GB of data will cost only around $1.50 per month. And, of course, all information is encrypted with 256-bit AES encryption to keep your files secure.
Time Warp requires Mac OS X 10.5 or later, and an S3 account. Most importantly, though, we got through this entire post without a Rocky Horror Picture Show reference.
[via Lifehacker]