Reader Bill Robertson, like a lot of us, has accumulated quite a collection of hard drives. He writes:
I have the original Mac Pro that I loaded with four 250GB SATA drives. That 1TB of storage filled up faster than I thought it would and so I replaced some of them with 500GB drives. Things are getting tight again and now that prices have come down, I'm thinking of 1TB drives. The problem is that I have a lot of old SATA drives that are sitting around. What should I do with them?
As we deal with larger files—pictures, audio, and video—we need places to put them. The CDs and DVDs that once seemed so expansive just don't have the kind of capacity that many of us require. That leaves us with hard drives. And because hard drives fill up, we increasingly find ourselves in situations such as yours—swapping out lower-capacity hard drives for more capacious drives.
It's silly to toss out these perfectly serviceable older drives. So allow me to suggest three ways to put them to use.
Drobo.
Voyager Q or Voyager S2.
External enclosures.
Data Robotics' Drobo is a RAID enclosure that supports up to four SATA drives of any capacity. Going for just over $350, the Drobo works over a USB 2 or FireWire 800 connection. The thing to note about the Drobo is that it doesn't provide the accumulated capacity of each drive because it's a redundant system—it stores two copies of your data. So, for example, if you were to shove four 1TB drives into it, you'd realize only about 2.7TB of storage. While it's a shame to lose some of that storage, you'll cry far fewer tears when one of those drives goes bad and it doesn't take your data with it.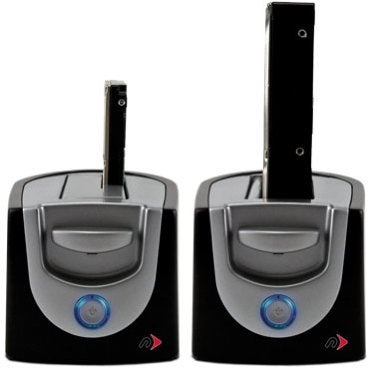 If you don't need that kind of storage and are seeking a way to simply jack in one spare SATA drive or another from time to time, take a look at NewerTech's Voyager Q or Voyager S2. Priced at $95 and $50 respectively, these hard drive "enclosures" look and behave like toasters. Just connect it to your Mac (the Q supports FireWire 800/400, USB 2, and eSATA connections while the S supports USB 2 and eSATA), shove a 2.5" or 3.5" SATA drive into the slot, and the drive mounts on your Mac. When you're done with that drive, drag its icon to the Trash, and then push down the Voyager's lever to pop out the drive, just as you'd pop out a slice of toast.
And if you desire a more permanent solution, purchase a drive enclosure from an outfit such as OWC or NewEgg. These come in a variety of flavors—USB 2, eSATA, FireWire 400, and FireWire 800 (and often a combination of them)—and can be had for as little as $40.