If you've got yourself an Internet-connected Blu-ray player and an iPhone, then you, my friend, are at the perfect intersection of Technology Boulevard and Future Street. According to Home Media Magazine, beginning with the release of the two-disc special edition of Fast & Furious on Blu-ray, Universal Studios Home Video will release titles that allow users to enhance their home movie-watching experience with the help of their iPhone or iPod touch.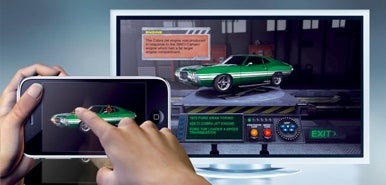 No, Vin Diesel is not going to show up in your living room and play Dungeons & Dragons with you (warning: link contains salty language). But, by downloading a special companion iPhone app from the App Store, you'll be able to control certain interactive content on the discs. In the case of the Fast & Furious set, the feature in question is the Virtual Car Garage, which lets you use your iPhone or iPod touch to control a 360-degree view of cars from the movies while pulling up their specifications.
This is reportedly only the first example of tie-ins between Blu-ray discs and the iPhone. In future titles, Universal says users will be able to control playback of their Blu-ray players using the iPhone as a remote, access information about the film, and even login to Twitter or Facebook to make status updates about their movie-watching. That way all your friends can go out and buy their own copies.
There's another tech-friendly feature to the set, too: it contains a digital version of the movie which Universal says can be watched on "an array of electronic devices" (though it doesn't specify precisely which devices). But before you get too fast, you're likely to get too furious: that digital copy expires on July 31, 2010. How they pull that off, we're not sure—sounds like DRM to us, and that might suggest that the digital copy won't be playable on the iPhone.
If you want to use the iPhone features, you'll need to download the companion application from the App Store and have a BD-Live-capable Blu-ray player at your disposal. The double-disc edition of Fast & Furious lands July 28 for $40, Vin Diesel sold separately.