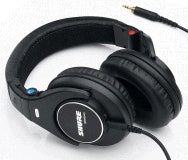 Headphone vendor Shure, known for its in-ear-canal headphones, in-ear monitors, and headphones, announced today the company's first foray into traditional over-the-ear headphones
The new SRH line comprises three models: the $75 SRH240 Professional Quality Headphones, the $125 SRH440 Professional Studio Headphones, and the $250 SRH840 Professional Monitoring Headphones.
All three models use closed earpieces for noise isolation and a 1/8-inch miniplug with a 1/4-inch adapter. According to Shure, the SRH240 is optimized for low-power audio sources, such as most consumer audio devices, and uses a 2-meter cable. The SRH440 offers enhanced frequency response and is optimized for use with professional audio devices such as DJ mixers, mixing consoles, and headphone amplifiers; it also features a foldable design for easier storage and better portability, a detachable 3-meter cable, and a carrying bag. The SRH840 is designed for professional audio engineers and musicians; it includes the same features as the SRH440 but provides "reference-quality frequency response," improves comfort thanks to additional headband padding, increases power handling, and includes an additional set of earpads.
According to Shure, the three new models will be available "this summer."