If the 40th anniversary of the moon landing by NASA's Apollo 11 crew has you jonesing for more information about our lunar neighbor, Google Monday came out with a new Google Earth feature that promises to provide just that.
Google took the wrappers off Moon in Google Earth, which features panoramic pictures of the lunar surface, historic videos, renderings of NASA's landing modules and scads of articles about Earth's orbiter. Its release was handily timed to coincide with the anniversary of the first moon landing by humans on July 20, 1969.
"This tool will make it easier for millions of people to learn about space, our moon and some of the most significant and dazzling discoveries humanity has accomplished together," wrote Anousheh Ansari, the first female space tourist, in a blog post on Google's site.
"Moon in Google Earth enables you to explore lunar imagery, as well as informational content about the Apollo landing sites, panoramic images shot by the Apollo astronauts, narrated tours and much more. I believe that this educational tool is a critical step into the future, a way to both develop the dreams of young people globally, and inspire new audacious goals," Ansari added.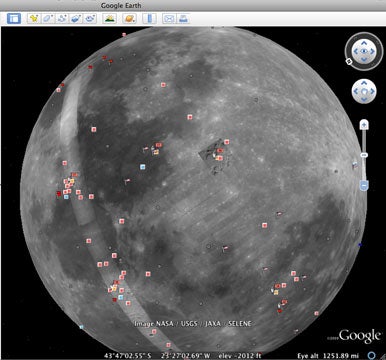 Moon in Google Earth is the latest version of Google Earth, following earlier versions that added updates on Earth's oceans, the constellations and Mars imagery.
Michael Weiss-Malik, a product manager for the Moon in Google Earth project, noted in his own blog post that the product tries to chronicle the Apollo landing missions in words and pictures. Users also will find guided tours, as well as photos taken by the astronauts presented in a 3-D Street View style.
"Google is proud to announce the release of Moon in Google Earth, bringing you one step closer to understanding the experience of standing on the moon," wrote Weiss-Malik. "It brings the Apollo stories out of the history books, recreating them in an immersive and interactive 3-D environment."
Google worked with NASA's Ames Research Center, as well as with JAXA, Japan's space agency, to develop much of the feature's content.