At a Glance
Expert's Rating
Pros
Inexpensive and easy to read text on
Can handle free e-books saved as PDF files
Cons
Only one font size on our model
No support for DRM-encrypted e-books
Our Verdict
Foxit's eSlick Reader is curiously named because the e-book reader is decidedly unslick, with a utilitarian appearance that lacks the elegance of competing e-book readers. Ultimately, though, its looks are less of a concern than its limited functionality.
Foxit is best known for its Windows software, Foxit Reader, a popular PDF viewer that is leaner and less resource-hungry than Adobe's PDF reader. It's no surprise, then, that the company's e-book device is built solely around the PDF format. Amazon's Kindle ( ) and Kindle DX ( ) natively support PDF, as well.
The eSlick Reader is lightweight, small, and thin, but it feels plasticky and cheap. The eSlick is sometimes a bit hard to hold naturally, and turning pages involves moving your hand to the four-way controller in the lower right portion of the face. We couldn't change the font size of any of the PDF books we tried—in every instance, the menu option for font size was grayed out. (In order to change the font size on a PDF, the unit must be in Reflow Mode, a tidbit buried in the user manual.) Zooming in works; but after using it, you may have to scroll left and right to read across a line. You can shift most documents to landscape view and then zoom to the width of the device, which does ameliorate this problem.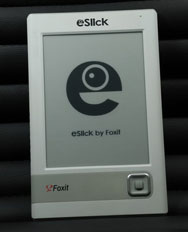 The screen itself is clear and easy to read. It supports four shades of gray, so illustrations don't look quite as good as they do on the 16-grayscale screen of Amazon's device, but illustrations and artwork aren't the forte of any modern e-book device. Page refresh is sluggish, as in all other E Ink displays. You can listen to MP3s while you read, but the headphone jack accepts 2.5mm plugs rather than the standard 3.5mm plugs, so you'll have to use the included adapter to insert most headphones. Like most e-book readers, the eSlick Reader's music player isn't great.
Getting books onto the device is unduly cumbersome. The eSlick doesn't support wireless of any kind, so you have to rely on the USB cable. The e-book reader's memory consists of 512MB built-in and 2GB on the included SD Card (you can swap this out for your own SD Card if you like). Books must be be formatted as plain-text (.txt) or .pdf files. Foxit includes the company's PDF creator software for Windows (which normally costs $29), so you can convert virtually any printable document into a PDF if you have access to a Windows PC. As more books become available in PDF format, the eSlick's limited format-reading ability may cease to be an issue, but few current bestsellers are available as PDFs these days. Furthermore, some of the fancier PDFs we tried exhibited a few formatting problems. It does not support DRM-protected PDFs, but the eSlick can read password-protected PDFs.
Macworld's buying advice
Priced at $250, the eSlick costs almost as much as the Kindle. Unfortunately, the eSlick's hardware has no wireless capability and suffers from ergonomic problems, and Foxit has a long way to go to provide software and services that would make the device a desirable alternative to the Amazon and Sony frontrunners.