iTunes and AmazonMP3 are terrific music resources, but in some ways they're simply the digital equivalent of big-box record stores of the past. They tell you what you'll pay, they promote music they believe worthwhile, and, in nearly all cases, they hold the upper hand in artist relations. But there are other, far smaller music retailers that are doing some creative things with marketing and sales of independent music.
Take NoiseTrade for example. I've recently become completely enamored of A Watched Pot, a slice of pure-pop-heaven by a mutton-chopped artist named Bleu. I'm a fan. And as a fan I wanted more. By following links on Bleu's Facebook page I was led to NoiseTrade, where a 6-song EP was available. What caught my attention, other than the music, was the way it was sold.
I could have Bleu's Four/AWP Bonus EP by either telling five of my friends about it or by paying what I felt like for it. When you choose the tell-your-friends option, you enter your name, email address, and zip code. You then enter the email addresses of five friends and a message is sent to each, recommending that music. NoiseTrade doesn't keep the friends' addresses for further communication, so if anyone has a concern about spam, they need look no further than you.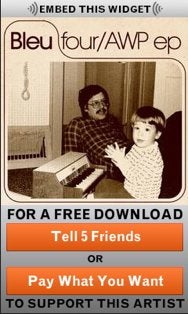 Optionally, click a Pay What You Want button and a slider appears that runs from $0 to $25. Set the slider at the amount you want to pay and proceed. Yes, you could conceivably play nothing at all (you cheapskate, you), but a typically honorable person pays something for the music they love. I paid $5 for the EP, charged it to my credit card, and received a download link within minutes. The music was delivered in the form of 320kbps MP3s.
The artist makes 80-percent of whatever you pay, with NoiseTrade keeping the rest in order to pay for the service. The artist also receives the name, email address, and zip code of anyone who downloads their music.
And then there's Amie Street. This independent music site offers dynamically-priced MP3 downloads. It works like this: The more often a track is downloaded, the more it costs—up to 98 cents for the track. So, if you see a track that costs in the 80 – to 98 cents range, you know a lot of people like it (and therefore it's a reasonable bet that you will too). Find a cheap or free track and that indicates you've got something that either no one likes or is new and not-yet-discovered. To get a better idea if something appeals, you can click a Preview button to listen to 30 seconds of the track.
Getting the most from these sites requires a certain level of musical curiosity, but that curiosity can pay off in some great (and, perhaps, inexpensive) music. If that fits your style of music consumption, take a look and listen.