At a Glance
Expert's Rating
Pros
Best low-light performance of any pocket camcorder
Runs on AA batteries; HDMI-out port
Cons
Bulkier than most pocket camcorders
HDMI cable not included
Our Verdict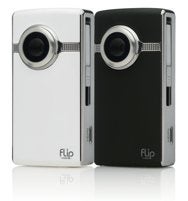 If one were to seek a poster-child for pocket camcorders, you'd need look no further than Pure Digital's Flip cameras. These candy bar-style camcorders epitomize point-and-shoot video with their simple operation, easy connectivity, and emphasis on sharing video across the Web.
Last spring, Pure Digital released the latest in the Flip line, the $200 Flip UltraHD. Offering a lower price, higher capacity, and better-looking video than the $230 Flip MinoHD ( ), the UltraHD is the Flip camera to have.
The camera
Available in black or white, the UltraHD features the same push-the-big-red-button-to-record functionality as Pure Digital's Flip Mino ( ), MinoHD, and original Ultra. The UltraHD holds more memory than the MinoHD—8GB of flash memory versus the MinoHD's 4GB—and therefore can hold twice as much video. The MinoHD's holds a single hour of clips whereas the UltraHD can capture 2 hours of video.
Like the original Ultra, it uses removable batteries, which is handy when you have more that you'd like to shoot but are running low on power. You can use either the rechargeable batteries included with the camera or two AA batteries. The included batteries charge when you connect the camera to a powered USB port—other batteries must be charged outside the camcorder.
The UltraHD is the first Flip camcorder to offer a 2-inch (diagonal) screen (other Flip models have a 1.5-inch display), bear a stereo microphone, and include an HDMI out port (cable not included). And it's the first Ultra that lets you rewind and fast-forward through video you've captured. (The Flip minos have always been able to do this.)
Other than these difference, the UltraHD operates much like other Flip cameras. It has the same fairly unimpressive 2x digital zoom, lacks image stabilization, includes the flip-out USB connector that earns it its name, and has a copy of the same cross-platform FlipShare editing and video-sharing software found on other Flip cameras.
I've covered FlipShare in other reviews so suffice it to say that it's a convenient way to edit video on any Mac or Windows PC the camera is jacked into. But it offers only very basic editing functions. Thankfully you can also import its clips with iPhoto and then edit its H.264 video in iMovie.
The look and sound
You've heard this before: All pocket camcorders are a compromise. They're designed to produce decent looking video in typical shooting conditions but they all fall down at one time or another—in too bright light or indoors when there's too little light or your light source is a table lamp, for example. At the risk of damning it with faint praise, the UltraHD falls down less often than other pocket camcorders I've used.
It stands up to bright sunlight outdoors and offers better depth of field than does the MinoHD. Indoors it takes on a slightly blue cast but it's not distracting. Its low-light shooting is better than the MinoHD as well. And every bit of video it shoots far surpasses anything my iPhone 3GS can do. That said, in less than optimal shooting conditions you will always get better looking video from a full-sized HD camcorder.
Unlike other pocket camcorders I've tested, the UltraHD's microphone doesn't produce thin-sounding, trebly audio. It's hardly a sonic wonder, but you can hear some lower frequencies in what it records.
Macworld's buying advice
Of all the pocket camcorders I've reviewed, the UltraHD is my favorite thanks to its ease of use, longer shooting time, HDMI output, and video quality. If you're interested in quality video in your pocket, this is the camera to have.
[Christopher Breen is the author of The Flip Mino Pocket Guide (Peachpit Press, 2009).]