If you need attractive images on a tight budget, there are many good stock-photography sites that let you choose from thousands of images with prices starting at just a few buck per shot. But while these sites generally do monitor the artwork being submitted for purchase, they don't guarantee that the images you download won't run afoul of trademark or copyright issues.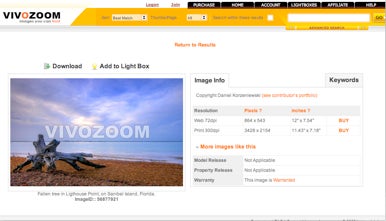 Vivozoom, a new stock-photo site by former Getty Images executives, looks to offer buyers peace of mind. The company guarantees that all of the images for sale on its site are legally safe to use. This means that photographers, illustrators, and models have agreed to Vivozoom's release requirements. If a legitimate legal claim does appear, Vivozoom says it will provide legal defense and responsibility for damages up to $25,000.
Vivozoom offers subscription plans starting at $279 a month for up to 15 downloads a day, or pay-as-you-go plans starting at $49 for 12 Web-resolution images.