Apple has been steadily adding sexy features with each new version of Motion, and version 4 is no exception. A high-profile feature in version 3 ( ) was 3-D, and in Motion 4, Apple continues to enhance the realism of motion graphics with new rendering capabilities to simulate shadows, reflections, and depth of field. Behind the scenes, there are improved tools for camera framing behavior, as well as the ability to link parameters together to simulate complex relationships between objects. Text handling capabilities have also been enhanced with new manipulation controls over individual text characters, and there is a new credits tool called Scroll that will bring a sigh of relief to TV and film editors. As with previous versions, you can never have too much RAM, CPU, and GPU horsepower—Motion can use just about every resource you can throw at it, as it is probably the most resource-hungry tool in Final Cut Studio. Let's take a quick look at the notable new features.
3-D shadows and reflections
Motion 3 added 3-D capabilities, but objects didn't interact with each other in a visually realistic fashion. Now, by default all objects can cast and receive simulated shadows from lights in your 3-D compositions. Also, any shape, video plane, or paint stroke can simulate reflections from objects around them. As with shadows, parameters such as edge softness and falloff can be tweaked and animated to your heart's content. Both of these effects are simulated, and while they look good, they don't always behave like their real-life counterparts. I found the feature to be tricky to work with—I experienced an odd clipping of shadow and reflection edges in one setup I tested—see the screen shot a little further down.
Depth of field
Depth of field is a popular technique used by photographers and cinematographers to direct our attention to specific parts of a composition. This is the ability to bring objects at a particular distance from the camera into sharp focus, as objects closer to or further from that point become progressively and increasingly blurred. Previously, it has been possible to simulate this effect by painstaking manipulation of manual blur settings. But with Motion 4, it is a "set it and forget it" type behavior—let the rampant rack focusing begin!
Credit Rolls
Credit rolls have long been a painfully awkward part of post production. Now, you can import a Rich Text Format credits file and set behaviors for automatic scroll speed, flicker control, or opt to start off-screen. There's even a viewer that shows you what section of the credits you are looking at relative to the entire list, much like the zoom feature in iPhoto ( ).
New ProRes
ProRes (see the Final Cut Pro 7 review) has a new family member, ProRes 4444. With up to 12 bits of accuracy, 4:4:4 chroma sampling, support for up to 4K resolution files, and a 10 bit alpha channel, this is the high-quality compressed codec with alpha channel support that compositors have been badly needing for years. Rejoice!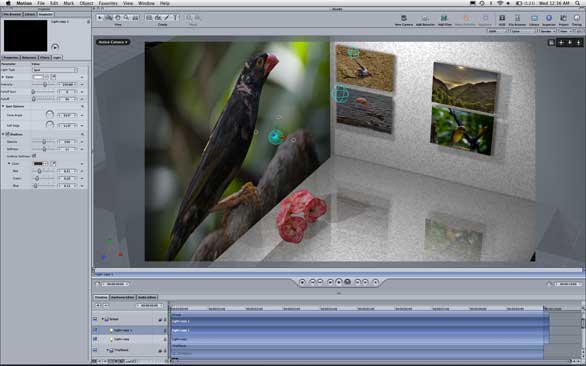 More updates
It's the little things that can make your life simpler and happier, and your motion graphics work smoother and faster. New Camera Framing Behaviors let you more easily and smoothly control and transition where the virtual camera is looking. A new Adjust Glyph Tool lets you tweak an individual letter as you would any graphic. The Sequenced Text Behavior picks up on this as well—you can adjust any single character, and those attribute changes ripple through the rest of the characters in that text element, which makes custom animation of text much easier. The new Link Parameter Behavior lets you pick an attribute from one object and have it control attributes in another object, such as linking the rotation of a car wheel to the lateral position of the car on screen.
As with Final Cut Pro, the new Easy Export function, accessed from File->Share, allows for easy export to the most common formats, and can even burn DVD and Blu-ray discs directly from your composition. New text generators, support for all of the new ProRes codecs, a Bad Film filter, multi-touch gesture support, and support for the 3Dconnexion SpaceNavigator ( ) (a 3-D controlling mouse) round out the major enhancements to this version.
Bottom line
Motion continues to get more robust with this new version. If you have a fast new machine, especially with a high powered graphics card like the ATI Radeon HD 4870, you can get complex work done amazingly quickly, while previewing as you work. For motion graphics, Motion is now a serious rival to Adobe After Effects ( ) in terms of speed and the ease with which complex animations can be set up. With shadows and reflections and depth of field, the results are also now more photorealistic than before, closing the gap between Motion and After Effects for certain kinds of work. Under the hood, Link Parameters, Camera Framing Behaviors, and other tweaks allow for easier control of more sophisticated animations. As someone who started doing motion graphics about 15 years ago, I'm very happy with this upgrade.
[Mike Curtis has been pushing pixels for a living for more than two decades, and presently consults on Final Cut Studio and other post production issues in Santa Monica, California. He writes for Macworld, his own HDforIndies, as well as ProVideoCoalition.com .]