At a Glance
Expert's Rating
Pros
Substantial improvements in round tripping from Final Cut Pro
Affordable control surface support
Support for the new ProRes and other formats at up to 4K
Myriad fixes
Cons
Still a few issues with Final Cut Pro round tripping
No network rendering for final output
Effects, transitions and filters done in FCP don't display in Color
Slow final renders
High system requirements
Our Verdict
Color 1.0 was my most eagerly anticipated component of Final Cut Studio 2, since I'd previously used its powerful progenitor, Final Touch with a $25,000 control surface. The promise of a beautiful professional color correction tool was mitigated by the myriad workflow problems of getting in and out of Final Cut Pro accurately. I used to say Color 1.0 was like a bird that was beautiful in flight, but don't try to watch it take off or land.
Since then, Apple has been diligently pecking away at these workflow issues, as well as adding new convenience features and format support. With support for Red and other formats at up to 4K resolution, support for the new ProRes flavors (see our Final Cut Pro 7 review), improved file based workflows, and support for tantalizingly affordable control surfaces, the new Color 1.5 is indeed a bird of a different color. Let's take a look at the new goodies.
Improved round tripping
While there is still a long list of caveats about what Color does and doesn't do or display, it has reached a very workable threshold where most projects, most of the time, can be round tripped successfully between Final Cut Pro 7 and Color 1.5. Still graphics, speed effects, multicam clips, and other common elements no longer translate incorrectly between Final Cut and Color, a very noteworthy improvement.
New format support
Color 1.5 now supports importing and rendering to all the new ProRes flavors, but most importantly to the new ProRes 4444. This means that extremely high quality 1080p HD or 2K work can now be done at single hard drive speeds instead of requiring the massive storage and throughput necessary for uncompressed files. New video formats are also now supported, including Sony's 50 megabit per second XDCAM 422 and Panasonic's 100 megabit per second AVC-Intra format.
4K and improved Red support
Color now supports ProRes 4444, DPX, Cineon, and Redcode RAW at up to 4096 x 2304 resolution, for square pixel 4K film output. Redcode RAW .R3D support is improved as well. For final renders, Color now decompresses Redcode RAW at full quality and resolution (usually 4K) and then scales to the final deliverable size, often 1080p or lower resolution. Combined with Color's previous ability to manipulate the RAW parameters, this is now an optimal solution for maximum quality and control—well done! Rendering is still time consuming for all formats, and no network rendering is offered with this version.
Affordable control panels
Four years ago, control surfaces cost between $10,000 and $30,000. Now there are options starting at around $1,000, such as Tangent Devices Wave and the Euphonix MC Control. Those price points make much more sense for a $1,000 software suite, and are much more likely to be adopted.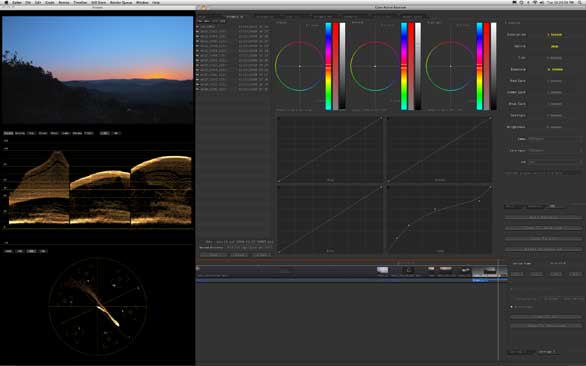 Notable Improvements
You can now directly import and grade DPX files without requiring an EDL (Edit Decision List) exported from elsewhere—enabling the grading of dailies for film scans. Rendering has been streamlined with an option to render only the unrendered shots, an improvement over prior versions. You can now copy grades to all selected clips, quite handy for scenes that cut between angles. You can also copy and paste in the Color FX room, display the waveform in either NTSC or PAL standards, and pressing Shift-Z scales the entire timeline to fit into the viewer. As a final bonus, you can download 90 Apple designed looks, such as Bleach Bypass and Day for Night from Apple's Web site.
Bottom line
Color 1.5 still has a very non-Mac, non-Apple look and feel with a very specific goal and skill set, but its edges are now merely lumpy instead of dangerously sharp. For optimal performance, the hardware requirements are still high—a fast Mac Pro, a high performance video card, one monitor of at least 1680 by 1050 resolution, or ideally two monitors with as high resolution as you can get. Client-built timelines are less likely to need meticulous, microscopic analysis and testing to make sure they'll round trip correctly as compared to early versions of Color. It still doesn't process as fields instead of frames (interlaced fields in footage get mangled if blurred, scaled, or rotated). It doesn't show effects, transitions, or plug-ins applied in Final Cut, and it still has trouble with mixed frame rate projects (requiring hand tweaking back in Final Cut to get your edits to match again). But it is also the most powerful, real-time capable (for some formats) color corrector I'm aware of that integrates so nicely with one of the major editing platforms. The power and speed with which you can isolate color ranges and manipulate the colors, and the ability to grade film-scanned DPX or Cineon files puts it in a league of its own at this price point—or anywhere near it.
[Mike Curtis has been pushing pixels for a living for more than two decades, and presently consults on Final Cut Studio and other post production issues in Santa Monica, California. He writes for Macworld, his own HDforIndies, as well as ProVideoCoalition.com .]