Navigon AG on Wednesday announced the launch of its MobileNavigator software for North America, for the iPhone. It costs $70 until August 15, when the price rises to $100.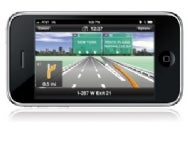 MobileNavigator doesn't require you to pay subscription fees or wait for map downloads—it's all built-in. The software provides you with turn-by-turn directions, and includes features like voice assistance, Reality View Pro, Lane Assistant Pro, Speed Assistant and Day & Night Modes. It also includes points of interest along the road, and Navigon plans to add more features to the software later this year.
The map display reorients automatically from portrait to landscape mode depending on how you hold the iPhone, and you can navigate to addresses from saved contacts. Users can zoom and out of the map view using two fingers. The North America version includes maps for the United States, Canada, Puerto Rico, and the U.S. Virgin Islands.
MobileNavigator, which launched in Europe last month, is billed as the first on-board iPhone navigation system in North America to be launched for the iPhone from a major navigation company.
MobileNavigator requires an iPhone equipped with iPhone OS 3.0 or later.