Editor's Note: The following article is reprinted from the Today @ PC World blog at PCWorld.com.
Fujifilm started the fall ball rolling with camera announcements today, unveiling six new Finepix models. The point-and-shoots cover a lot of ground, from sub-$100 entry-level cameras to advanced megazoom models.
On the advanced side are the new Finepix S200EXR and F70EXR cameras, the second generation of Fujifilm cameras to offer the company's high-quality Super CCD EXR sensor, following the Finepix F200 EXR.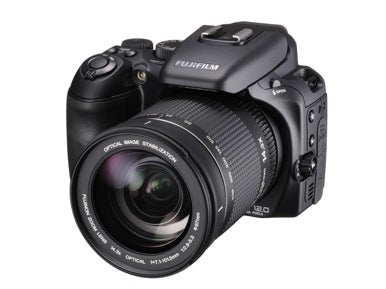 Though it's a fixed-lens camera, the DSLR-like S200EXR pictured above ($600, due in August) offers a manual wide-angle zoom lens with a 14.3X optical reach (30.5mm to 436mm), as well as the ability to shoot in RAW mode. It has the same 12-megapixel, 1/1.6-inch Super CCD sensor as the pocketable F200 EXR announced earlier this year, but its bigger, more-powerful lens should translate to even better image quality.
The other new Super CCD EXR camera, the 10-megapixel Finepix F70EXR ($280, due in August), is a pocket megazoom model that reaches from 27mm on the wide-angle end to 270mm telephoto with dual image stabilization and a special flash mode tailored for macro shots. In addition to promoting the zoom range, Fujifilm is touting the camera's thin frame; the F70EXR is less than 0.9 of an inch thick. It will be available in gunmetal gray.
On top of the resolution priority, dynamic-range priority, and high-ISO/low-light sensor modes found in the F200 EXR, Fujifilm is adding two new interesting "Multi Frame" modes to the mix. Pro Focus Mode simulates a large aperture setting by taking three shots at different focal lengths and then stitching them together to create a shallow depth-of-field effect. Pro Low Light mode uses a similar four-shot strategy to combine images at different ISO settings to create less-grainy images at high ISO levels. Both new EXR cameras max out at an incredible ISO 12800 at reduced resolution.
Also coming soon are four new sub-$200 cameras intended for different types of users. Pictured above is the slim Finepix J38 ($130, slated for August), which sports a 12-megapixel sensor, a 3X optical zoom, a 2.7-inch LCD, digital image stabilization, and a few nice in-camera features (face detection, red-eye reduction, and panorama mode).
The bargain-bin, 10-megapixel A170 ($90, due in July) and 12-megapixel A220 ($100, due in August) have the same feature set other than their respective megapixel counts, as both offer a 3X optical zoom, a 2.7-inch LCD screen, digital stabilization, face detection, panorama mode, and the ability to run on AA batteries.
Rounding out Fujifilm's latest announcements is the 10-megapixel Finepix Z37 ($150, slated for August), pictured below, a fashion camera geared toward teens.
It will have a 3X optical zoom, a 2.7-inch LCD, digital stabilization, face detection, red-eye reduction, a rechargeable lithium ion battery, and a special self-timer mode with face recognition, which the company says is meant for snapping portraits and sharing them on social networking sites. The Z37 will be available in green, blue, and violet.
All of the new Finepix cameras will be SD/SDHC-card-only models, a subtle departure from the XD-Picture Card storage format codeveloped by Fujifilm and Olympus. Many recent Fujifilm cameras have supported both card formats.